PAT O'CONNOR (1938-2023)
---
It was with great sadness that Kilmarnock Football Club recently learned of the passing of former player, Pat O'Connor, who died in May this year at the age of 84 following a battle with dementia. The thoughts and prayers of everyone at Rugby Park go out to Pat's family and friends.
---
PAT O'CONNOR
Born: 9/12/1938, Glasgow
Pat O'Connor was signed from Kilmarnock Amateurs in 1957, before spending most of the 1957/58 season farmed out to Clydebank Juniors. He played mainly as a wing half, either at right half or left half, although on occasions, he did turn out at inside right or inside left.
Looking at him, you could imagine he was a slightly built lad who was a cultured, creative player, which indeed, he was. However, Pat was much more than that. He was a clever, but hardy and determined character, who played with his heart-on-his-sleeve and never shirked out of a tackle.
Discovered playing in Glasgow schools football before joining Kilmarnock Amateurs, Pat appeared as a trialist for the reserves in late April 1956, whilst living at 144 Muirshiel Crescent in Glasgow. Malcolm MacDonald was the Kilmarnock manager at this time, and Pat played another three trials whilst also representing Kilmarnock Amateurs in the 1956/57 season. He was then provisionally signed, but just before the start of the 1957/58 season, Willie Waddell took over as manager, and Pat was farmed out to Clydebank Juniors, with whom he became a regular performer: mainly at right half, playing only the once for the Kilmarnock reserves in that season.
His first season on being called up to the club was 1958/59, and after impressing in the reserves he made his first-team debut at inside right against Airdrie on 4/10/1958. He played at inside right again the following week against Dunfermline Athletic in a hard-fought 1-1 draw at Rugby Park. Later in the season, on 7/3/1959, he was right half in a 4-1 home win over Falkirk.
The following 1959/60 season, Kilmarnock went full-time and Pat made three first-team appearances in the League Cup – scoring his first-ever goal in a 5-0 home win over Stirling Albion – and made 14 appearances in the league. He also went on the close-season trip to the New York Tourney, making a substitute appearance in one of the two friendlies Killie played whilst there.
It was during the 1960/61 and 1961/62 seasons that Pat did his national service in the R.A.O.C. During which time, he only managed 4 first-team league appearances at the club, as well as occasionally playing with the reserves. In May 1962, he was in the British Army football team squad that made an 11-game tour of South-East Asia. The squad included well-known players, such as Mick Kearns (Coventry City) and fellow Scots Jim Baxter (Rangers), Danny Ferguson (Hearts) and Davie Gibson (Leicester City).
After returning from his national service, Pat became a more regular first-team player. The 1962/63 season saw him score 5 League goals in a total of 32 first-team appearances, which included playing twice at Hampden in October 1962. He memorably played on with a blood-soaked jersey after a nasty head wound in a terrific 3-2 win over Rangers in the League Cup Semi-Final and also in the Final against Hearts, which Killie lost 1-0 after being denied the deserved chance of a replay when Frank Beattie's last minute equaliser was disallowed by the referee for a mysterious hand-ball (television footage and newspaper pictures later proved there was no hand-ball).
He also went on to play twice in the New York Tourney in the USA in the summer of 1963, and in 1963/64 season he played a further 28 first-team games.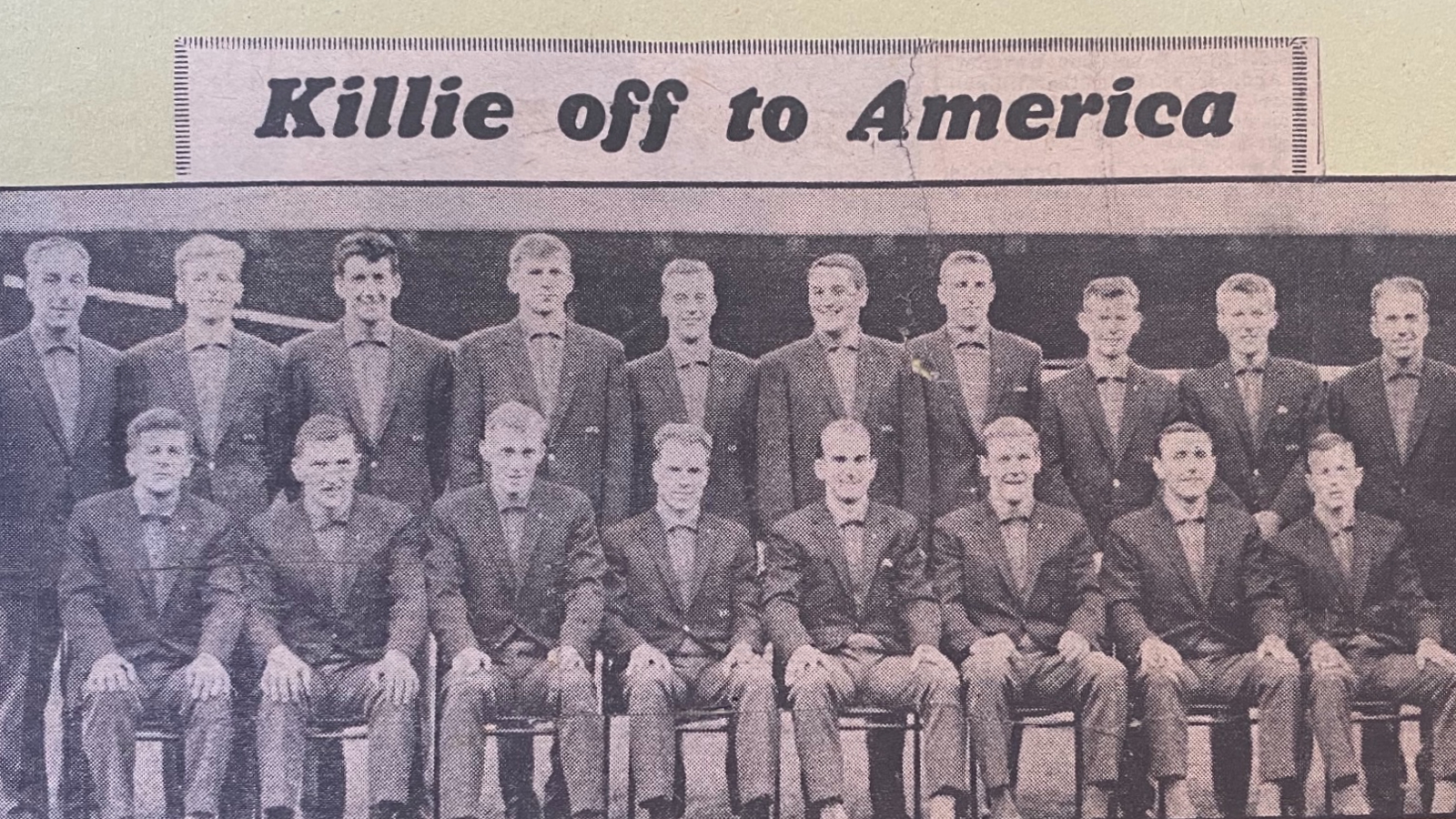 Unfortunately, after playing in Killie's opening 8 competitive games of the 1964/65 season, Pat sustained a leg knock in the last of them: the club's first-ever game in Europe, which ended in a 3-0 defeat away to Eintracht in Frankfurt on 2/9/1964. Despite getting fit again, he failed to regain his place in the team, and as history tells us, Killie went on to win the league title. Ironically, Pat scored Killie's second goal in that league campaign, in what was his only League appearance. It was the goal that put them ahead after going behind in the opening home game against Third Lanark, which Killie eventually won 3-1. He played for the reserves in both legs of the Reserve League Cup Semi-Final win over Hibs, scoring a goal in the home leg, in addition to playing in both legs of the Final against Dundee United, which Kilmarnock won 2-1 on aggregate to lift the cup.
He went to the New York Tourney for a third time in the summer of 1965 – with Malcolm MacDonald back in charge of Killie – playing in 3 games. However, he only made 10 appearances during the 1965/66 campaign, 7 in the league and 3 in the European Cup. Pat played in the 1-0 home win over Nentori Tirana and also appeared in both the home and away games against the mighty Real Madrid.
The 1966/67 campaign began with a wee bit of club history being made, as Pat became the first Kilmarnock player to wear a substitute No. 12 jersey in a competitive domestic competition. He was named as substitute in the opening League Cup 2-0 win over Stirling Albion, but was not used. He then went on to make his most starting appearances in a season for Kilmarnock in his career, playing a total of 40 times in League Cup, league, Scottish Cup and Fairs Cup games, which included famous Fairs Cup wins over Belgian clubs Royal Antwerp and La Gantoise (home and away), as well as playing in the first leg of the Semi-Final away to Leeds United, where he went toe-to-toe with another wholehearted performer, Billy Bremner, in a midfield battle that the press said ended in "an admirable draw"! That game, however, proved to be his last in a Kilmarnock jersey, as Pat left the club in the summer of 1967 – without their consent – to play for Chicago Spurs in a newly formed American Soccer League, which F.I.F.A. declared was an illegal competition. For this discretion, Pat received a "sine die" sentence, which was not lifted until September 1971. He also remained a registered player of Kilmarnock with the Scottish League until the ban was lifted.
Pat O'Connor's record with Kilmarnock:
League – 106 appearances, 9 goals
Scottish Cup – 5 appearances, 0 goals League Cup – 22 appearances, 1 goal European – 9 appearances, 0 goals
Total = 142 appearances, 10 goals