Kilmarnock in History: AGM unrest and big changes
---
Welcome to the seventh installment of our Kilmarnock In History series, by club historian John Livingston.
You can find the previous six parts through the Club History tab in the News section
PART SEVEN 
The 1901-02 Division 1 campaign began promisingly with a first ever competitive win over Rangers (4-2 at Rugby Park), but by the end of it, Kilmarnock had finished in a disappointing 7th place out of the 10 clubs involved. Only 16 points were taken from the 18 games, with the forwards scoring only 21 goals (a total that still remains as the lowest ever in a KFC League campaign).
The defence however showed vast improvement on their first couple of seasons in Division 1 by conceding only 25 goals.  It is worth noting that the same goalkeeper (Alex Craig), two full backs (Tom Busby and William Agnew) and three half backs (David McPherson, George Anderson and James Mitchell) played in every game.
During the campaign, the main stand receipts taken in the 1-0 home defeat from Celtic in late September 1901, were donated towards the benefit funds for long serving wing half, Jocky Johnstone, whilst in March 1902, centre half George Anderson was chosen to play for the Scottish League against the Football League at St. James Park in Newcastle.
Near the end of the season, a benefit game was played at Rugby Park between Kilmarnock and Newcastle United, with the money that was raised being donated to the Ibrox Disaster Funds. Kilmarnock ran out 2-0 winners; an impressive result against a club that had just finished 3rd in Division 1 of the Football League.
The following few seasons, Kilmarnock found it increasingly difficult to maintain top Division status. The Scottish League Division 1 was increased to 12 clubs for 1902-03, but Kilmarnock ended it in 9th place, taking just 16 points from their 22 games played. The club had also scratched from the Ayrshire Cup competition in which they had been drawn to meet Annbank.
At the club AGM there was some unrest amongst the membership, with a good number of them questioning why players such as Jimmy Howie and William Agnew had been sold, and others such as Tom Busby and Bobby Findlay were not offered terms for the new season.
However, worse was to follow in 1903-04, as Division 1 was increased to 14 clubs, and Kilmarnock, despite re-signing Bobby Findlay and a handful of promising young juniors, struggled badly, ending it in bottom place, winning only four times in their 26 games and taking only a paltry 13 points (still the lowest ever total in a league season by the club).
It meant a nerve-wracking day for the club at the League AGM as they and second bottom Motherwell went into the Division 1 election process with Falkirk, East Stirlingshire, Clyde, Hamilton Academical and a new club from the north-east, Aberdeen, who had yet to join the Scottish League. Thus, with no further increase in clubs in Division 1, only two places were available.
Fortunately, for both the bottom pair, the election result saw Motherwell (10 votes) and Kilmarnock (8 votes) retain top flight status, with Aberdeen (4 votes) and Hamilton Academical (2 votes), and the other trio not getting any votes at all. However, Aberdeen managed to get voted into the Scottish League Division 2, replacing Ayr Parkhouse.
Also during the 1903-04 season, a special meeting had been called in early December 1903 by a good number of the club members. As well as complaints about how badly the team had been performing, there was also an interesting matter which had been raised before, but this time it was backed by a good few committee members as well. It was about the possibility of the club becoming a limited company, and it was agreed to make further inquiries before making any decision.
The season of 1904-05 was a much better one for the club in the League, and they eventually finished in 9th place with 23 points from the 26 games played, even although they had endured a difficult period during November and December, when they lost six successive games.
There was a low point after the turn of the year, when right back Bernard Battles took ill with pneumonia after a game at Ibrox against Rangers. Sadly, his condition got worse after he contracted influenza, and he died at the age of 30 on 9th February. There were almost 40,000 people at the former Hearts, Celtic and Scotland player's funeral in Glasgow, and the club played a benefit game to raise funds for his family against Celtic on 11th March, which ended in a 1-1 draw.
The 1905-06 campaign proved to be another uneasy one for the club in Division 1, although there was a bit of club history recorded on Saturday, 11th November, when Kilmarnock beat Queen's Park 7-0 at Rugby Park, with John Young and Tom Galloway both scoring hat tricks – the first ever time two Kilmarnock players had achieved this feat in the same League game.
Just a couple of weeks later, whilst the first team were losing 3-2 at Port Glasgow in a Division 1 fixture, the reserves won 1-0 at home against Hurlford in the Ayrshire Qualifying Cup. Unfortunately, there was accusations of registration offences committed by Kilmarnock, and after Hurlford's protest was upheld, Kilmarnock refused to replay the game and the club was eliminated from the competition and also barred from playing in the main Ayrshire Cup as well.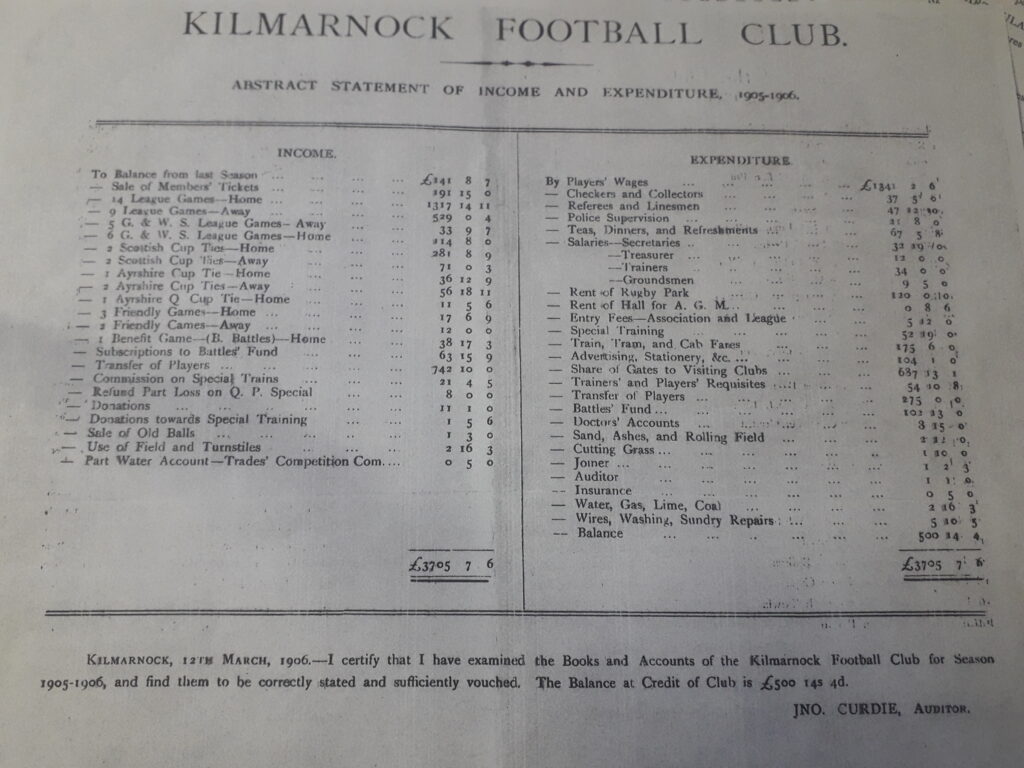 A historic event took place at the club AGM in the Oddfellows' Hall in John Finnie Street on Tuesday, 20th March 1906, when a motion was passed to wind up the club and restart it as a limited company. The action of dissolving the club and re-floating it as a limited company had been under discussion for a few years, but never seriously put forward until this meeting. This decision meant that the club's new title was now Kilmarnock Football Club Limited.
In the Scottish F.A. Cup, Kilmarnock had an amazing four-game marathon in the 2nd Round against Port Glasgow Athletic, played over four successive Saturdays from 10th February to 3rd March. They drew 2-2 at Rugby Park, 0-0 away in the replay, 0-0 a.e.t. at Cathkin Park in the 2nd replay, but lost 1-0 at Cathkin Park in the 3rd replay.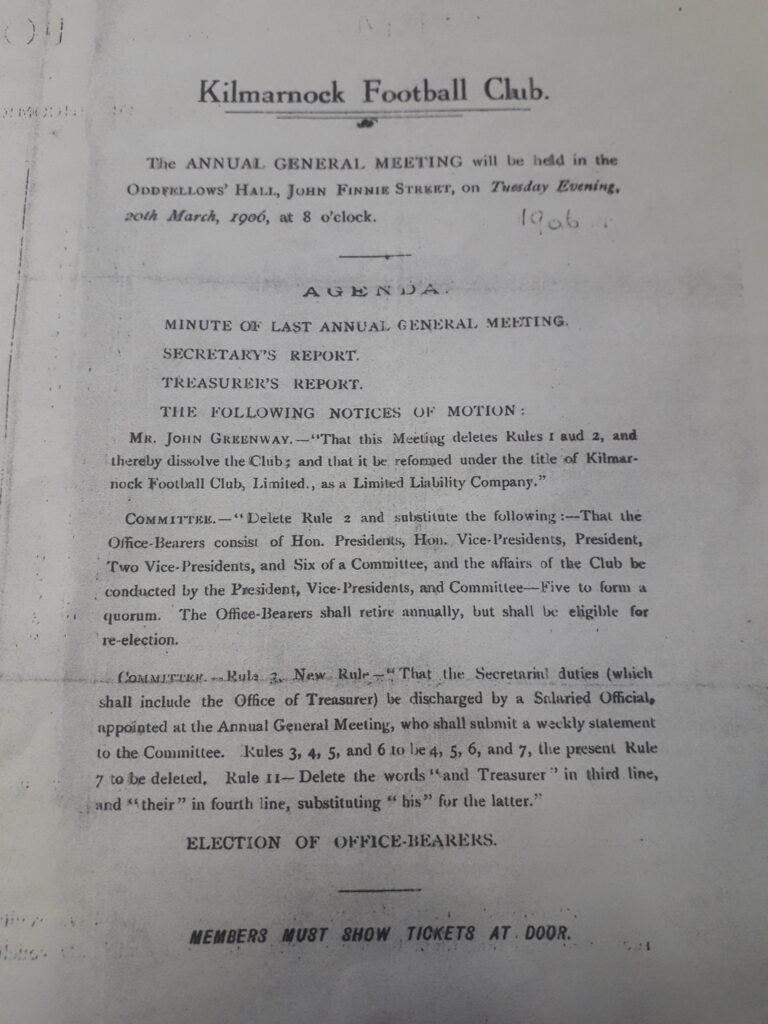 The result of the Scottish League Division 1 fixture between Kilmarnock and Port Glasgow Athletic on 28th April 1906, surprisingly also counted as the result of two fixtures in another competition. Because of fixture congestion, both the clubs had still to play each other twice in the Glasgow and West of Scotland League.
It was agreed by that competition's committee and the two clubs that the result of the Division 1 fixture at Rugby Park would also count as the result of BOTH games between them in the Glasgow and West of Scotland League.  Kilmarnock won 3-2, thus not only got two vital points in the Scottish League, but also four points in the other competition, something that would eventually, at the start of 2006-07, prove to be advantageous to them.
The Division 1 campaign ended with Kilmarnock and Port Glasgow Athletic both on 20 points from 30 games. However, because they had finished level on points, the pair had to play-off to determine which of them would finish in 14th place, thus avoid being involved with bottom club Queen's Park in the re-elections at the League AGM.
The play-off took place at Cathkin Park on Tuesday 15th May, but unfortunately, Kilmarnock lost 6-0, putting them 15th, and involved with Queen's Park in the elections at the Scottish League AGM.
Fortunately, the Scottish League decided to extend Division 1 from 16 to 18 clubs, and both Kilmarnock and Queen's Park were re-elected without too much fuss.