Killie 97: Road to the Scottish Cup Final
---
Everyone with Kilmarnock FC in their hearts will never forget that glorious sunny afternoon on May 24, 1997 as the club won the Scottish Cup for the first time since 1929.
Paul Wright's goal at Ibrox brought the cup back to Killie and sparked scenes of celebration on John Finnie Street and beyond that remain etched in the minds of all who were lucky enough to witness it.
As we approach the 23rd anniversary of that famous triumph, we spoke to some of the key personnel to talk about the journey to the Final.
Starting with the third-round tie against East Stirlingshire, Killie were still adjusting to life under caretaker manager Bobby Williamson.
Killie sat second bottom of the Premier Division with just 11 points from 13 games when Alex Totten was sacked as boss in early December 1996, following an away loss to bottom side Raith Rovers.
In his opening 11 matches, Williamson gained 13 points including victories over Hearts, Aberdeen, Dunfermline and Hibernian, allowing Killie to leapfrog the Easter Road side as our opening cup clash loomed.
Third Round, Saturday 25 January 1997
Kilmarnock 2 (McGowne 44, Brown 48) East Stirlingshire 0 Attendance: 4,783
Jim Clark, Kilmarnock Assistant Manager: Bobby had worked with the Reserves and knew a lot of these boys and hadn't been afraid to throw them in.
Alex Burke loved to take people on while David Bagan was a really talented player, who would get the ball and try some fantastic passes.
Steven Hamilton, Kilmarnock player 1996-1999: Bobby had a meeting with the young boys and he created an environment where everybody had to fight for their place. Alex and David did fantastically well but it created that fight for the club and you knew that if you played well, then you'd keep your place.
Jim Clark: East Stirlingshire was a game that we were expected to win but it was a sticky game, especially as we had been struggling in the league earlier in the season.
Steven Hamilton: It is always difficult when you played lower league teams as they were buzzing and wanted to cause an upset and get a run in the Scottish Cup.
We got a free kick right before half time and Kevin McGowne always had a great strike on him – he could wallop it in training.
Jim Clark: Big Kevin did have a tremendous shot but he didn't often get the chance to take free kicks because we had a number of talented players higher up the field. There's no doubt he could hit them though and he did that day. We scored another quickly after the break and that was that.
Killie: Lekovic, MacPherson, Anderson, Reilly, McGowne, Henry, Bagan, Roberts, McIntyre (D. Kerr 80), Brown, McKee (Burke 60). Sub not used: Hamilton.
'Shire: McDougall, Watt, Russell, Ramsay (Hunter 68), Sneddon, Neill, Inglis, Abercromby, McBride, Ronald, Stirling (Kerr 81). Sub not used: Campbell.
Referee: G.T. Clyde (Bearsden)
Fourth Round, Saturday 15 February 1997
Clyde 0 Kilmarnock 1 (Wright pen. 63) Attendance: 4,483
Craig Swan, Daily Record reporter: Kilmarnock had gone down the young manager route before with Tommy Burns so there was a good feeling when Bobby was appointed and he wasn't afraid to give the young players their chance.
Burke and Bagan were a great double act and while Bobby was protective of them off the pitch, he let them loose on the park. Burke was quick and absolutely fearless and he was named the Scottish Football Writers' Association's Young Player of the Year that season.
Raymond Montgomerie, Kilmarnock captain: I remember thinking Clyde was a good draw for us because they were in the Second Division at the time but we knew the pressure would still be on us.
We took a good crowd with us there but at the back of your mind there was always the battle for survival in the league.
I don't remember a huge deal about the game apart from Paul Wright's penalty. He was such a good striker of the ball and you'd have put your mortgage on him scoring.
Jim Clark: Bunion (Paul Wright) was good at getting free kicks and penalties but you wouldn't want that kind of penalty given against you. Paul was a tremendous goal scorer and Bobby managed him really well. He had to keep him sweet at times and it wasn't always easy but Bobby managed it.
Raymond Montgomerie: The cup run helped us gather some steam over a period of three or four months. Bobby knew the quality of players we had and he made sure the team was a good balance of experience and youth.
Clyde: McLean, McEwan (Carrigan 73), McCheyne, Prunty, Brown, Knox, Brownlie, Gillies, Annand, Campbell, Mathieson (McConnell 83). Sub not used: McLay
Killie: Lekovic, MacPherson, D. Kerr, Montgomerie, McGowne, Reilly, Mitchell, Brown, Wright, Bagan, McKee (Burke 63). Subs not used: Henry, McIntyre.
Referee: T.M. McCurry (Glasgow)
Fifth Round, Saturday 8 March 1997
Greenock Morton 2 (Mahood 56, 65) Kilmarnock 5 (Henry 14, 42, 89, Wright 33, McIntyre 67) Attendance: 8,834
Steven Hamilton: Kevin McGowne was suspended but I didn't think they would have put me in because I was a full back really.
A few of us were in on the Wednesday and I was kicking a ball about and Bobby asked how I felt. The week went on and the team was named on the Friday and I was in. I spoke to Ray Montgomerie and a few of the older pros about a few things and they were a great help to me.
Alan Mahood, Greenock Morton 1992-98 and Kilmarnock 1998-2004: Kilmarnock were the favourites but it seemed to be the bigger team, the better for us at Cappielow and it was a good challenge.
We focused more on our strengths rather than pick holes in the opposition and we were doing alright. It was the Quarters and it was a big match.
Jim Clark: Morton was always a hard game for Kilmarnock at Cappielow. They had some good players but we had confidence in our team.
Kevin McGowne was a really good centre half and Gus MacPherson at right back was a tremendous servant for Kilmarnock so it was hard for Hammy to shift them and get a regular place in the team.
Steven Hamilton: There was a lot of talk in the paper about their striker Derek Lilley getting a move down to England so I knew it would be a challenging game. It was a nice day down there and I remember I had a gash on my ankle and I wore these shin guards and they really hurt.
Alan Mahood: Killie went 3-0 up and then we went down to ten men right before half time when Steve McCahill got sent off for going through Paul Wright.
We were quite an attacking team with the players that we had – and while I don't remember the team talk, I think we thought that we might as well have a go. For my first, the ball came into Derek Lilley and I've made a run off him and finished it with my left foot, which was unusual for me.
Then another unusual one a few minutes later as I managed to score a header so our tails are up but we knew that one lapse could allow Kilmarnock to pick us off and that's what they did."
Steven Hamilton: They scored their second goal to make it 2-3 then suddenly, we started dominating the game again for some reason. Jim McIntyre scored and Colin McKee had come on and kept cutting inside and causing them all sorts of problems.
After the game Bobby said his bit and the staff said we could go to the final here. It was a brilliant day for me and I realised how big the game was overall.
Alan Mahood: It was a bittersweet game for me. It was the chance for us to go one step further. I was arguing with Bobby after the game because he claimed it was a hat-trick for John Henry but I was putting one of those goals down as an own goal.
I never hid the fact Killie were my team and I suppose it isn't too bad to lose to the team who went on to win the cup.
Morton: Wylie, Collins, McArthur (McPherson 79), Anderson, McCahill, Lindberg (Aitken 84), Lilley, Mahood, Hawke, Cormack, Rajamaki (Mathieson 75).  NOTE: McCahill (sent off 44)
Killie: Lekovic, MacPherson, D. Kerr, Montgomerie, Hamilton, Reilly, Bagan (Findlay 86), Henry, Wright (Brown 49), McIntyre, Burke (McKee 76).
Referee: A. W. Waddell (Edinburgh)
Semi-Final (Easter Road) Monday 14 April 1997
Kilmarnock 0 Dundee United 0 Attendance: 12,391
Jim Clark: Before the Morton cup game we had lost to Raith in Kirkcaldy to put us right back in the mire in the league. After Cappielow we went on a four-game winning run. Burkey tore up Enrico Annoni at Rugby Park as we beat Celtic 2-0
We also beat Rangers 2-1 at Ibrox and although our Premier Division fight went right down to the last day, it gave us confidence.
Craig Swan: Celtic had beaten Rangers in the quarter final and they were overwhelming favourites to reach the final when the draw for the last four was made.
With the romance of the cup we should have known better – of course it would end up with Alex Totten facing Killie.
United were a really good team that year – the best of the rest in the league and they'd had a bit of success in the transfer market with players from Scandinavia.
Kjell Olofsson was a throwback – the kind of big, physical striker that was few and far between in the game at the time and Kilmarnock did really well to keep him quiet over two matches.
It was a typical semi-final, full of nerves and neither team really got going on the night.
Raymond Montgomerie: It is not a game I've watched back but maybe we edged it on chances. We had taken plenty of Killie fans through to Edinburgh and we were maybe a little bit disappointed that we didn't finish them off.
Jim Clark: United had gone on a 17-game unbeaten run but lost to Hibs in their last match before the semi-final.
The last time we had played them in the league we lost 3-2 but we should have had all three points that day. They were a fine team but we weren't scared of them.
Killie: Lekovic, MacPherson, D. Kerr, Montgomerie, McGowne, Reilly, Bagan, Henry, Wright, McIntyre, McKee (Brown 83). Subs not used: Findlay, Hamilton.
United: Dykstra, McKimmie, Malpas, Duffy, Perry, Pedersen, Olofsson, Zetterlund, Winters (McSwegan 83), Dolan, McLaren (McKinnon 68). Sub not used: Bowman.
Referee: J. McCluskey (Stewarton)

Semi-Final Replay (Easter Road) Tuesday 22 April 1997
Kilmarnock 1 (McIntyre 86) Dundee United 0 Attendance: 9,225
Jim Clark: We made a key change in the replay because it wasn't working for us in midfield so we had to do something.
Jim McIntyre started through the middle with one player off the front with Gary Holt to the left of midfield. In the opening 20-25 minutes, United were on top and [Neil] Duffy was dominating the central midfield area so we put Gary Holt in there with Paul Wright up front.
Holt had the legs and could dominate Duffy on the ball. It was the kind of game where the first goal was going to be the winner and it was just relief that we got it and went through.
Raymond Montgomerie: I remember three things about that game. The first was Jim McIntyre's goal and just saying 'wow'.
The second was with minutes to go I flew into a tackle and I was only one booking away from missing the final. The referee Jim McCluskey had a word with me and told me not to go and get myself booked with so little time left and those last few minutes seemed to go on forever.
The sound of the final whistle is up there with the cup final for me. For a lad like me to have been relegated to the Second Division in my first season with Kilmarnock to then go up to the First and then to the Premier Division and now reach the Scottish Cup final was just incredible.
The picture of me kneeling down with the scarf at Easter Road is my favourite picture.
Tommy Burns ingrained good habits into the players and while they weren't always visible during Alex Totten's time, Bobby Williamson helped bring those back to the fore.
After the Scottish Cup semi-final in 1994 [Kilmarnock lost in a replay to a fiercely disputed Mark Hateley double], Tommy came on the bus and said to us 'have a good look at it [the stadium] because you'll all be back here one day'.
I was on a coaching course in Largs two or three weeks before the final and I saw Tommy. He said 'I told you' so there were a lot of feelings and emotions at that time.
Killie: Lekovic, MacPherson, D. Kerr, Montgomerie, McGowne, Reilly, Bagan (McKee 89), Henry, Wright (Brown 87), McIntyre, Holt. Sub not used: Prytz.
United: Dykstra, Duffy, Malpas (Bowman 43), Pressley, Perry, Pedersen, Olofsson, Zetterlund, McKinnon, Dolan (Winters 62), McLaren. Sub not used: McSwegan.
Referee: J. McCluskey (Stewarton)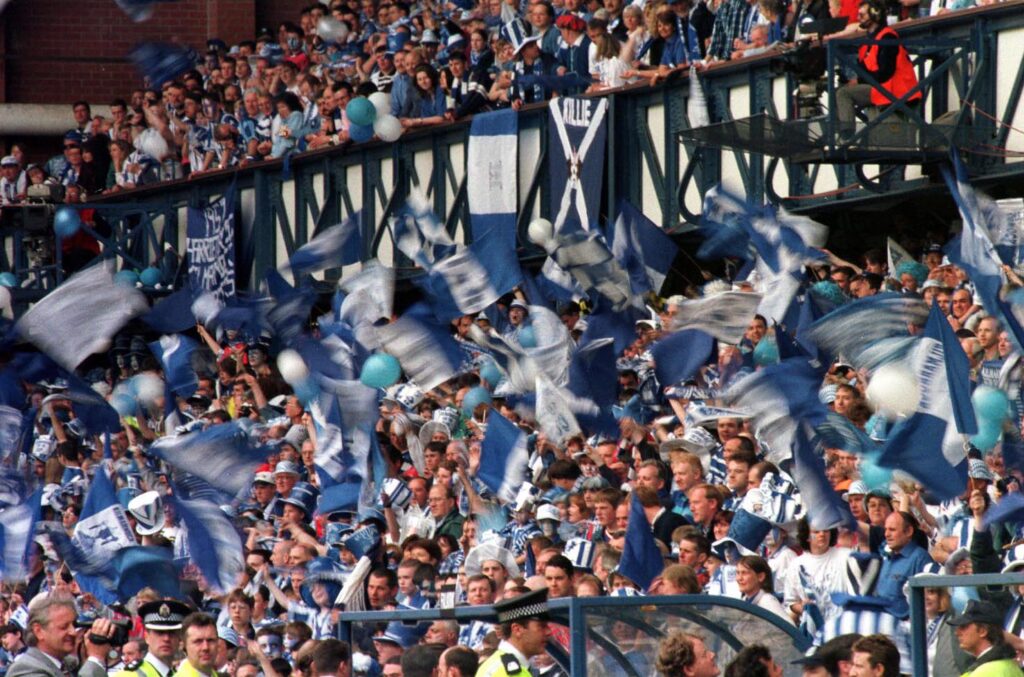 The Killie Trust are marking the anniversary with a series of online events this weekend, starting with a Killie Kwiz on Friday, May 22 at 7pm.
Full details of how to take part
On Saturday, May 23, there will be a Cup Final recap podcast with a cup hero and on the anniversary itself (May 24), there will be a Lift the Cup fan event with very special guests so get involved using #killie97
Further information can be found @TrustinKillie