Season Pass 2020/21: Frequently Asked Questions
---
What are the club selling for season 2020/2021?
As soon as fans are allowed back safely to the stadium then your seat will be there ready for you for 19 home league matches.
While fans are not allowed into Rugby Park due to government guidelines, our season pass will allow you to watch all home league matches live through our virtual season pass platform.
We will release full details of how to watch the stream of matches as soon as possible.
If we can't give you 19 full league games in the stadium in 2020/21 then you will have the chance to claim a credit for the value of the matches missed, which will be deducted from the cost of your package for season 2021/22.
What other benefits do I get with this pass?
10% off club shop items (T&Cs apply)
Exclusive prize draw entry throughout the season
How can I buy my 2020/2021 season pass?
Existing Season Pass holders will receive an email link to renew for 2020/21 and can do so by following this guide.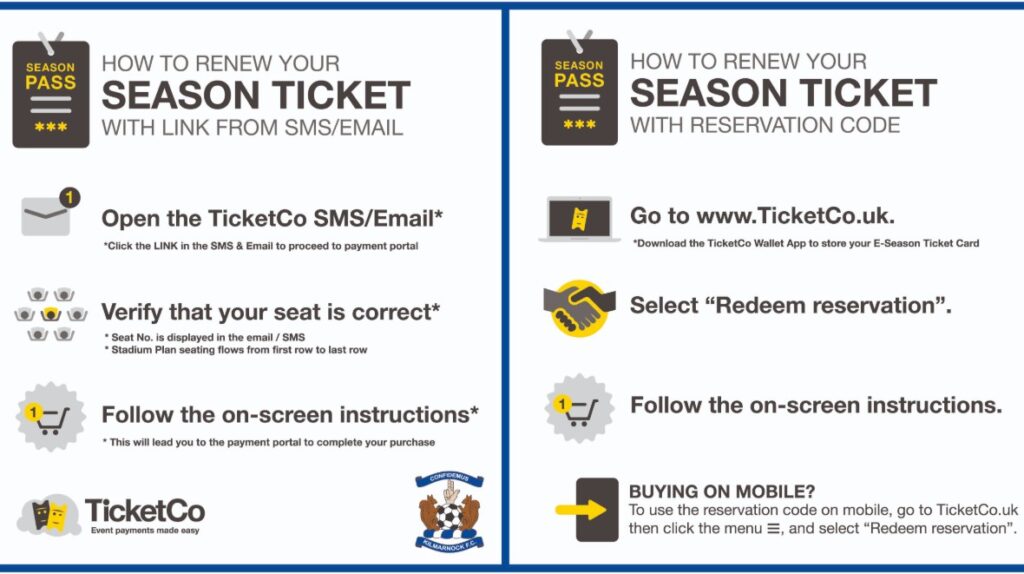 If you would like to buy a 2020/21 Season Pass and you are not an existing holder then simply follow these steps. This option will be available from Monday, June 15.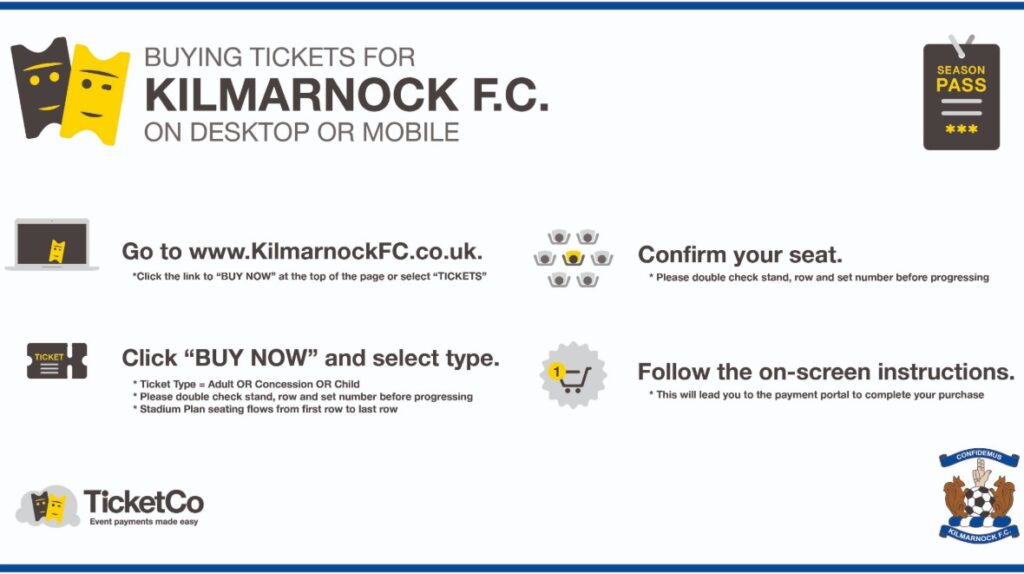 What can I do if I cant renew online?
If you are having difficulties renewing online or over the phone then you can contact our ticket office on 01563 545 311 (open Monday-Friday, 10am-4pm) or drop us an email on tickets@kilmarnockfc.co.uk  and someone from the team will be in touch.
We want the process to be as simple as possible but with government guidelines and social distancing measures in place, unfortunately we are unable to accommodate drop in facilities at the stadium at this time.
If you really need to see us in person, then please email asking for an appointment and we will be in touch to advise a suitable time.
How long will the club hold existing season ticket seats?
Your seat will be held until 31/07/2020
Are any finance options available?
We have renewed our partnership with V12 Finance and under the agreement, season pass holders will be offered a five or nine-month option to pay for their season pass in installments.
We will release more information on how to apply through V12 as soon as possible.
When will fans be allowed back into Rugby Park?
Under the Scottish Government's Coronavirus Framework document, live events with restricted numbers and physical distancing restrictions can take place in Phase 3.
A further relaxation in line with public health guidelines would be possible in Phase 4, but we want to see you back as soon as possible. 
Why are there no free Under 16 passes?
The club took the extremely difficult decision to postpone this offer, as under the new agreement the club will be billed a monthly rate per season pass holder regarding access to the virtual streaming platform.
We remain committed to encouraging and inspiring the next generation of supporters by offering our U16 Season Pass (which works out at £3.68 per home league match) as well as continuing our Moffat Family package, which covers two adults and two U16s.
Where can I find Season Pass Terms and Conditions?
You can find TicketCo's full terms and conditions and our Club T&C's here.