Premier Sports Cup Ballot | Stranraer
---
All loyalty season pass holders that entered the ballot to attend the Kilmarnock v Stranraer match on Saturday, July 24 were successful.
These tickets will be available for those loyalty season pass holders for an exclusive period from 9am on Thursday, July 22.
Remaining spaces will then be made available for all Season Pass holders from 9am on Friday, July 23 to purchase after this time on a first come, first served basis using the same process as described below.
This is the same process we followed for ticket sales for tonight's match against Greenock Morton.
Only one ticket can be purchased in one transaction with each code being used separately.
Ticket Prices are
ADULT: £15
CONCESSIONS (Over 65 / Under 21 / Students): £10
UNDER 18: £8
UNDER 16: £4
How to purchase your ticket for the Kilmarnock v Stranraer match:
Enter your promo code –  (Your season ticket reference code is 5 letters, all lower case and can be found on your confirmation email from TicketCo. If you can't find this information, then please contact our ticket office who will be happy to help. Please note promo codes are unique and can only be used to purchase 1 ticket per code)
Click on Apply Code
Select your ticket type available in the East Stand or Chadwick Stand
Select your block on the seating plan
Select your seat within the block
Click on Purchase and follow on screen instructions to complete purchase – (please note that if you do not complete the purchase at this time your code locks for 15 minutes. After this time you will be able to use your code again)
You will then receive your digital ticket and a PDF copy that can be printed with the QR code
If you are unable to use the digital ticket or print a copy of the PDQ QR code please contact the ticket office and we will arrange for a copy to be printed for collection.
Ticket Office can be contacted on 01563 545311 or by email tickets@kilmarnockfc.co.uk
We look forward to welcoming you back to Rugby Park.
The Ticket office will be open:
Thursday: 10am – 12pm & 2pm – 4pm
Friday: 10am – 12pm & 2pm – 4pm
Saturday: 11am – 2.30pm
Remember to bring photo ID to confirm your identity. Please take note of the below information so you are aware of what is required on the day. We would love you to come along wearing your favourite Killie colours to support the team.
You MUST arrive at the time slot directed. Details on fan admission times can be found in the table below.
Check your ticket and the block number printed on your ticket will highlight the time at which you are expected to arrive at the East or Chadwick Stand Turnstiles (Please refer to your ticket).
It's vitally important that you arrive at the time associated with your block and at the correct turnstile, as you may not be permitted entry if you miss this.
Blocks will exit the stadium in a staggered approach. Security staff will make it clear which blocks should leave when and via which gate on the evening.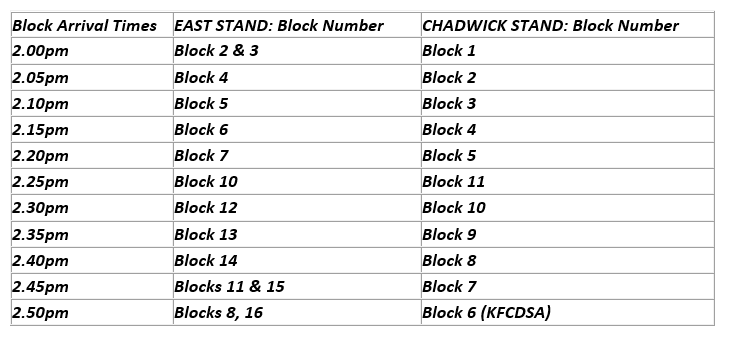 Our stadium code of conduct must be adhered to and it can be viewed here
Please note that under level 0 restrictions face masks must be worn at all times, sanitising stations will be provided around the ground. More information can be found here in relation to level 0 restrictions
The following safety video will give you more information as to what you should expect when your arrive on site.
We remain in discussion with the local authority after requesting an increase to the 2,000 maximum capacity number for our first home league match of the season against Ayr United and will update fans in due course.