My Killie Rituals: Colin Duff
---
Colin Duff has been a Killie fan all his life and he kindly submitted this piece as part of our Killie Rituals series. You can catch Ross Calderwood's story
In 2013, I visited Dublin and took in the All-Ireland Football Final at Croke Park.
After having a few beers with my Irish friends in the packed pubs surrounding the ground, we took the short walk towards our place in the 'Hill 16' end of the historic stadium. As we were pushed along with the crowd, I felt lucky to have a ticket for the 82,000-capacity sell out game.
This game is the pinnacle of the Gaelic Football calendar, and it felt like a proper treat for a tourist like me to attend.
Buzzing from pints of Guinness and the charged atmosphere, I looked up and saw a massive billboard as we were swept towards the turnstiles. It was a GAA poster promoting ticket sales for the tournament, featuring a young lad in his Dublin top waving his flag at the game, with the slogan 'Nothing beats being there'.
Dublin went on to beat Mayo and claim the title for only the third time in the previous 20 years. Afterwards the town was jumping and for obvious reasons I don't remember much about the game or the following night out.
However, 'Nothing beats being there' stuck with me.
Now, with the coronavirus pandemic shutting us out of Rugby Park, the truth of those four simple words seems amplified.
The Scottish Government gave special dispensation for professional sport to continue throughout lockdown as they recognised its importance to a significant percentage of the population. Although 20/21 hasn't been the best of seasons for Killie on the park, I'll be forever grateful they took that decision.
In normal times my job in the oil industry involves a lot of international travel. I always tried to organise trips around the football when I could and got to most games home and away. The pandemic has changed everything, and the furthest I've been in the past year is Fife, where I spent a week with my wife and daughter when things opened up a little in September.
I can't complain and realise I'm lucky to still have a job and not to have suffered as many have recently. I work from home behind a makeshift desk, and though it's great to see more of my girls, it has been a huge change in lifestyle for me this past year, as it has been for most of us.
Despite our poor form, watching the game on Killie TV every week definitely helps. Being in lockdown, sometimes it feels like the football is the only thing that distinguishes the weekend from the rest of the week.
On the odd occasion we have won I've celebrated hard, jumping about like a lunatic on my own. I seem to be swearing more at referees and opposition players as well! Without that release I'd probably be even more crabbit about the house than my wife (rightly) likes to point out.
Although lockdown would be more difficult without it, being forced to watch every game on TV (and usually on my own) highlights to me just how much more there is to following Killie than the match itself.
I think about that poster in Dublin. 'Being there' isn't just about being in the stadium to witness the highs and lows. It's much more than that.
It's the anticipation of the day out, the travel to the ground (the atmosphere on the bus and in the boozer before the game) and then discussing the match with anyone who will listen afterwards. Scottish football is surrounded by a unique culture that is a joy to be a part of.
As we grow up supporting Killie, our match day experience goes through stages as we mature. I've been going to games as long as I can remember.
One of my earliest memories was as a seven-year-old at Palmerston in 1989 when we beat Queen of the South 6-0. There was a pitch invasion at full time that quickly ended when it came over the tannoy that Clyde had scored in injury time and relegated us on goal difference. I remember being close to tears in the car on the way back up the road from Dumfries, my dad talking about how much of an effect it would have on our town.
For years afterwards I would go to Rugby Park with my dad and brothers watching our heroes from the terracing, guys like Willie Watters, Dave MacKinnon and Ally Mitchell. In the almost 32 years since, I've never had to experience Killie being relegated again. I've watched as we quickly climbed two divisions to the top-flight of Scottish Football and stayed there, with a Scottish Cup, League Cup, and European trips thrown in along the way.
The next stage on my journey was when I was allowed to start going to away games with my mates on the Killie Club Bus. Every second weekend we met at Rugby Park and took our seats up the back, to travel to Edinburgh, Dundee, Aberdeen etc.
Jim Wilson's supporters bus is where countless songs were written before being belted out on the terraces; classics such as 'Pat, Pat, Nevin on the Killie wing', and 'Jerome Vareille, loves a Killie Pie'. With bladders close to bursting, we would beg the driver to make a stop on the motorway or jump off as soon as we hit traffic near the ground to run behind the nearest tree.
In those days we were too young to get into the bars around the grounds, so we had to make do with a chippie and getting into the stadium early, as the older ones headed to the pub. It wouldn't be long before we were joining them though.
You almost always get a good welcome at football supporters pubs and social clubs in Scotland; Club 100 in Motherwell, The Tulloch at St Johnstone, The Almondvale Suite at the Tony Macaroni and The Prison Officers Club at Tynecastle to name a few.
In these places pre and post-match the atmosphere is a living, breathing thing and it encourages everyone to have a good time and take part in the chat. I've taken a few tourists from different countries to away days over the years. They are always kept entertained when some punter walks over and starts telling them how Killie deserved at least a point and how the price of the pies were ridiculous, followed by 'where you from?', and then a tirade of everything they know about that particular countries football leagues and players.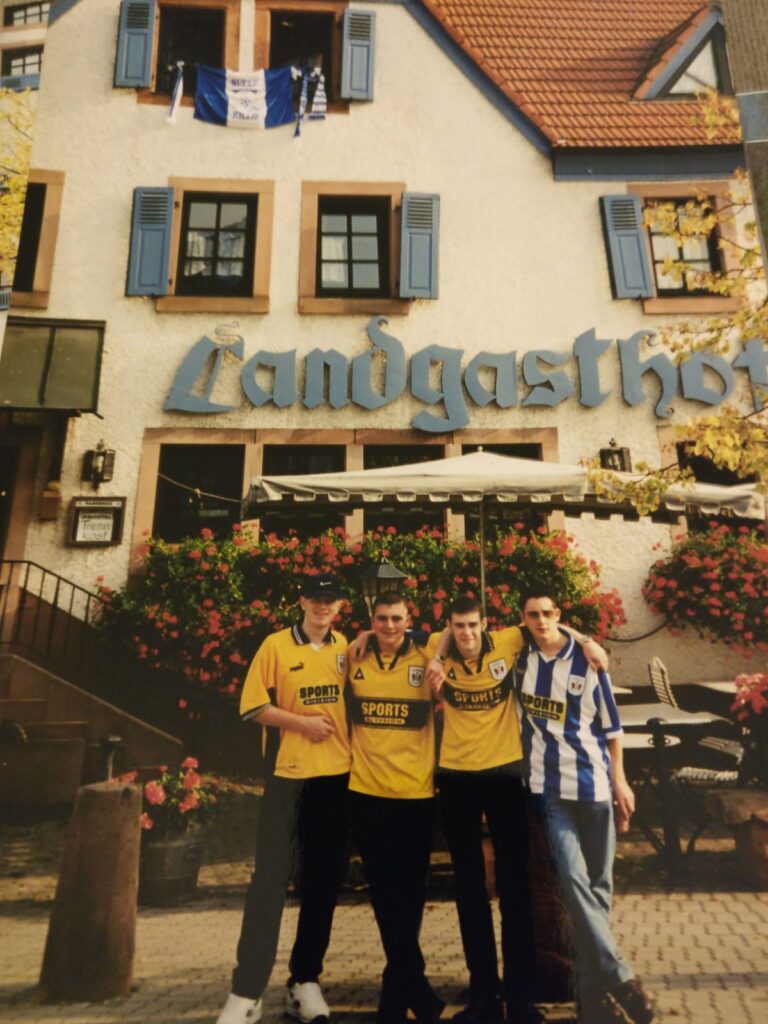 Some of my best life experiences have been enjoyed on my journey watching Killie. My first (legal) pint of lager was at 08:30am in Prestwick Airport on my 18th birthday as we flew out to see Bobby Williamson's side take on Kaiserslautern in the UEFA Cup.
The weeks leading up to the '97 cup final were special, the whole of Kilmarnock was buzzing. My parents had a BBQ party that lasted three days. The big occasions stand out, but it doesn't have to be a big game to be a big experience.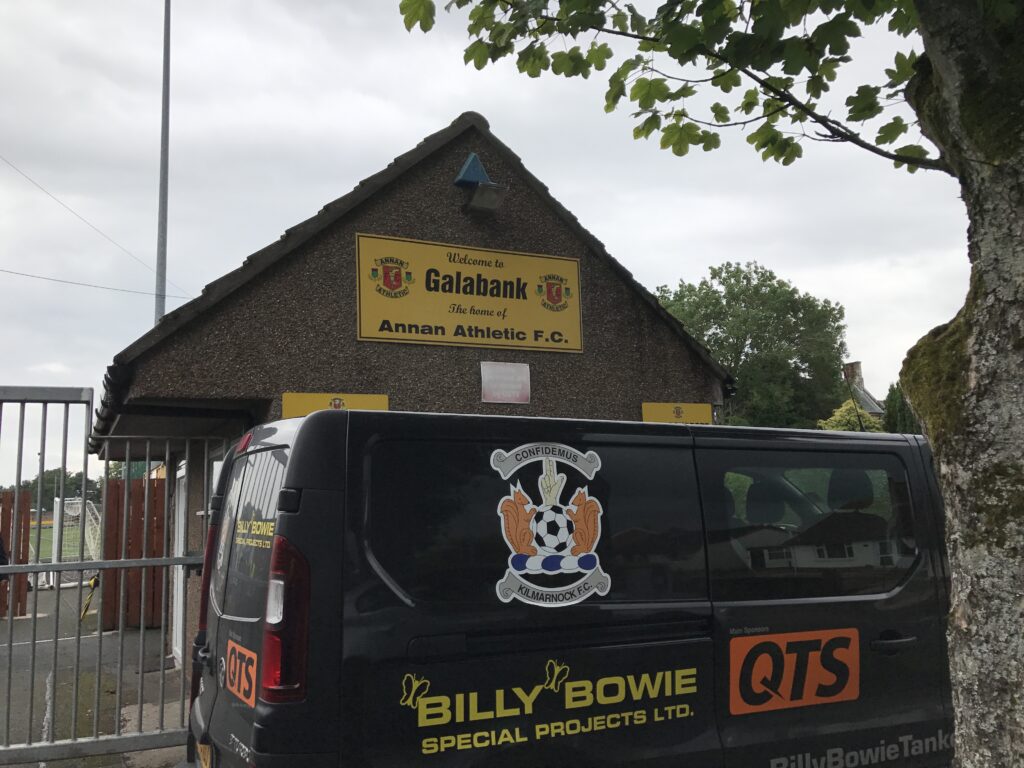 One of my favourite away days was a recent league cup game at Galabank in Annan, as we won 2-0 in horrendous weather conditions. It was great to go to a new stadium for the first time, and even better when we found they had a social club a stones throw from the pitch!
Home games in recent years are a chance to meet up with my brothers and mates, usually the only chance that week, as we all get busy being old. The importance of going to the football, for myself and many others like me, can't be underestimated.
In modern times social media writers like Old Firm Facts, and podcasts like The Terrace (also now a brilliant TV show) have started to bring the unique culture of Scottish football to a wider audience (something that fanzines like The Killie Hippo have been doing for years).
The social cluster you become a part of when following your team, whatever stage you are at on your journey, is to be treasured.
For now, I'll keep following on Killie TV every week, jumping about like a mad thing and shouting at referees, hoping this isn't the year I have to experience relegation again.
No matter what happens between now and the end of the season, the thought of getting on the Killie Club bus and heading to a Super Killie Away day will keep me going…. because nothing beats being there.