Life in lockdown with Nicke Kabamba
---
"I had been waiting so long for an opportunity like this. Instead of the usual nerves taking me into my shell it was like: 'Ok, you're here now and playing against one of the biggest clubs in the league. Just do what you're good at."
Headline after headline, goal after goal. A whirlwind two and-a-half-months has seen Nicke Kabamba capture the imagination of the Rugby Park faithful since being coaxed from Hartlepool in January.
It must have felt like just rewards, at last, for a man who has had a less than conventional route into the game: time spent battling away in England's non-leagues before a premature exit from his first stint as a professional with Portsmouth.
It seems the poor guy can't catch a break though; with a global pandemic throwing up another barrier, but after years of breaking through them, he's confident he's not going to let another slow him down.
"It's been ok so far it's just a case of ticking over and doing runs and exercises," he says of his life during the COVID-19 shutdown. "Me and my missus have just been keeping busy, following a few fitness videos that help us keep focused.
"We were still training on the Friday when we found out the St. Mirren game had been postponed, just working on set-pieces and runs to keep us going. Then somebody came out and broke the news.
"It hit us all at once then, we're left wondering what the outcome was going to be. It's obviously frustrating because it's our jobs, it's what we love, and we want to finish the season."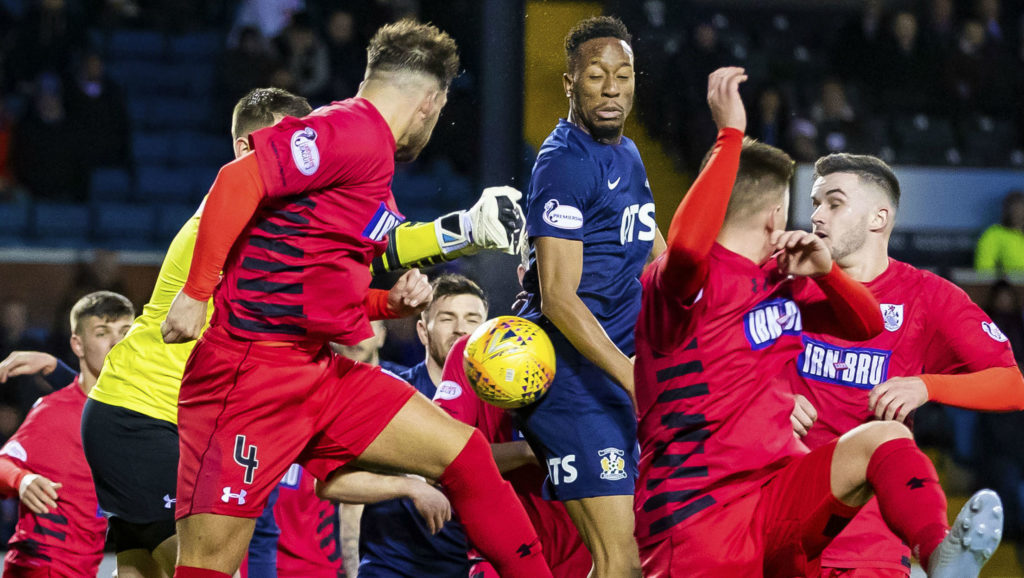 It's rare to have a new recruit adapt to life so quickly, but Kabamba took to Killie like a duck takes to water; scoring on his debut in the 6-0 Scottish Cup rout of Queen's Park, before following up with more strikes against Celtic and Ross County, the latter coming on his 27th birthday.
Kabamba's unshakeable self-belief shines through. After being told he was leading the line against Celtic in that first Kilie start, memories of the years spent fighting for a chance as a pro came flooding back.
"It's hard to explain what that felt like. Going into such a big game and getting a start was huge," he said.
"I'd been waiting for an opportunity like this, so instead of the usual nerves taking me into my shell it was like: 'Ok, you're here now and playing against one of the biggest clubs in the league. Just do what you're good at.'
"It wasn't the result we wanted, but that was my first professional league goal, that meant something," he smiles.
It's fitting to look back at the years before it all happened for Kabamba: four years of graft as a car rental salesman at Jafvans Car & Van Rental in South Harrow whilst studying Sports Management and coaching at Buckinghamshire New University.
The competing worlds of a working life and football was a fretful balancing act.
"My parents were pretty insistent that I get an education and a qualification under my belt.  I'm glad to have it and the opportunity to do stuff after playing – it's a short career, nothing is guaranteed."
Thirty-three goals in the National League for Hampton & Richmond Borough would eventually seal a 2017 switch to Portsmouth, but when a contract extension at Fratton Park never materialised, he admits he was sometimes worried he had missed the last train to the professional ranks.
"As a human, you always measure up what's happening and, yeah, sometimes you'd think 'when will it happen?'
"Football has always been my life, and when it's your life, and you dedicate so much of yourself towards it, you always feel like you'll be able to come out on the other side.
"I had other things going for me, my degree, and could've seen myself going into coaching or teaching.
"I had a serious look at my options and decided to keep going ahead with football. It did happen for me, and that's something I'm grateful for."
Living and breathing the game comes naturally to Kabamba. "I gravitated towards it," he says. "My brother played and all my friends were kicking a ball about. I just remember there was always a ball in the house."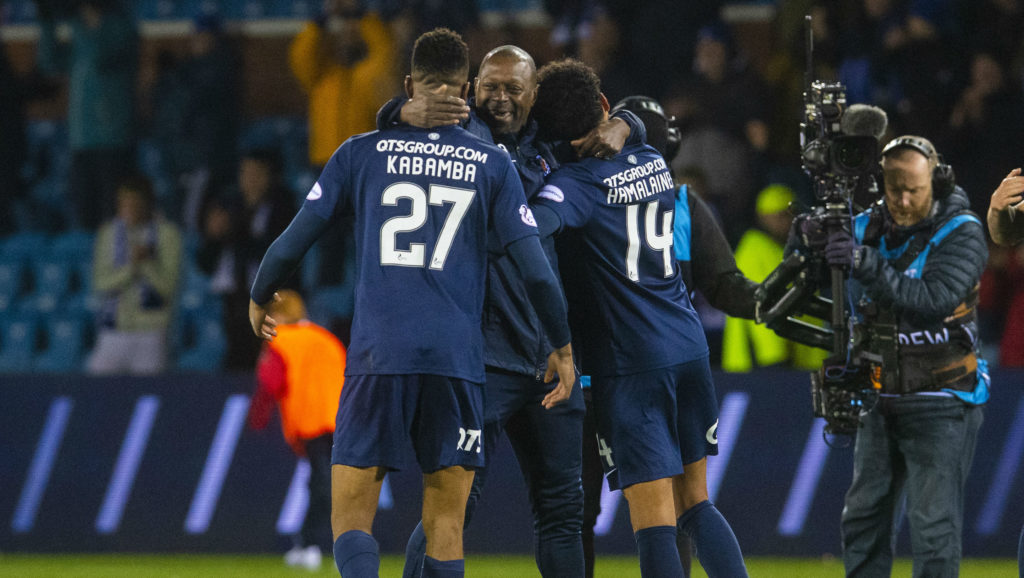 Much has been put into perspective in the wake of the COVID-19 outbreak; currently living in Kilmarnock with his partner, he's separated from friends and family back home like so many.
A growing support network in his adopted home has made lockdown north of the Border a more comfortable time "The boys and staff have been legends and so welcoming since I arrived. Kitman Kev, what a guy," he adds.
Growing up in suburban London, his small-town sensibilities had made it a seamless transition to life in Killie, coupled with regular trips to Silverburn before the lockdown in his spare time.
Football hasn't always been straightforward for Kabamba, but now hitting his stride in new surroundings, that ever-present confidence will be ready to go whenever the action returns.
"The gaffer has put his trust in me since I got here, and hopefully I've paid some of that back.
"We felt we were able to put a run together after that Hamilton game, we've all got faith and trust in ourselves that we can kick on.
"It's tough to take but it really doesn't matter with everything that's going on. You have to look at the bigger picture, look after your family and yourself.
"And we'll be ready to go when football returns."