Kilmarnock FC Memorial Garden Packages
---
The Kilmarnock FC memorial garden packages to commemorate loved ones at Rugby Park
The Club's Memorial Garden was officially unveiled in November 2021 and since then we have been working hard to ensure we offered a package that would allow our fans to commemorate loved ones as part of the display on a wall the sits adjacent to the garden itself.
As part of the package, personalised plaques in Bahama Blue Granite can be purchased and a portion of ashes interred in the garden, a beautiful and fitting tribute to supporters, acting as a reminder for future generations of Killie fans. The plaques can only include full names, the date of birth and date of death of your loved ones. Each plaque measures 200mm x 100mm. These have been designed and manufactured by our Club Partners, Ayrshire Memorials.
There are also packages available that include a service conducted by Club chaplain, Rev. James McNay. Our Hospitality team are also here to discuss use of our function spaces if you wanted to host a commemorative celebration of life event in the grounds of the stadium.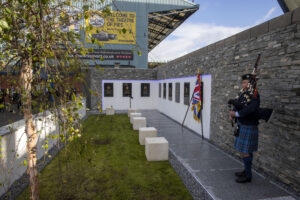 Full details can be found on our website HERE where the online application form can be completed. If you specify your needs someone from our team will be in touch to confirm plans and arrangements.