Killie Magazine Insider: Jonathan Burns
---
The December edition of the Killie Magazine recounts the twists and turns of the Tommy Burns era, with insights from Davie MacKinnon, Bobby Williamson, Tom Black and many more who were lucky enough to know him.
Tommy's son, Jonathan, also kindly took the time to recall his father's love for the club. You can find a preview of this month's special edition magazine below.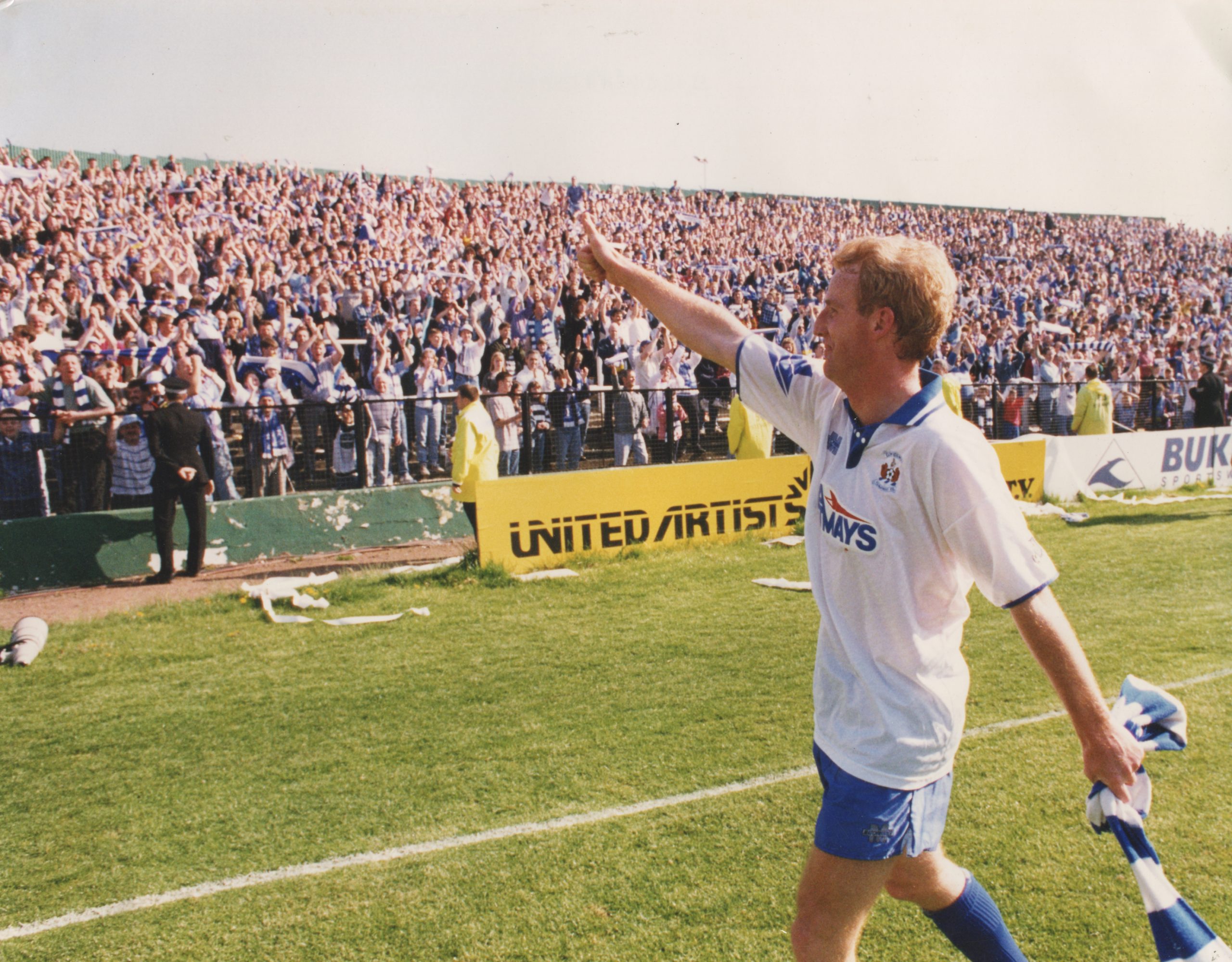 JONATHAN BURNS RECALLS THE ENDURING AFFECTION HIS FATHER HAD FOR THE CLUB, BOTH DURING HIS TIME IN AYRSHIRE AND IN THE YEARS AFTER HE LEFT
"We were all pretty young at the time, but what I will say is that he never stopped talking about his time at Killie. He always referred to it as probably his most enjoyable time in his football career. Obviously success has a big part to play in that. If you're doing well, that helps in football.
"I was actually watching something the other day – a speech he had done at his testimonial dinner at the Hilton. I think it was in 2007, so that was probably about a year before he died. He speaks about Killie, and he talks about everybody. He talks about the lady who made the tea, he talks about the guy who worked the front desk, how it was, and still is, a real, small community club."
Tommy Burns made a significant contribution to Kilmarnock's rebirth in the early 1990s. On the pitch, his magic moments against one club in particular remained very fond memories.
"He loved the matches against Ayr because I think he was very proud of the goals he scored against them. The way he put it was that every time they played against Ayr, he seemed to score. I think he loved that, because it was a derby game, and they naturally mean more to fans. He loved those games; he loved the stadiums at that time as well. The old Ayr United ground where it was right on top of the pitch, the terracing."
The warm-hearted joker is a mythical personality we have come to be very familiar with in the years since his passing. There was, however, a different Tommy Burns: a passionate, driven, and inspiring figure.
"I think you've hit the nail on the head because, now, you listen to a lot of interviews, and they speak about the funny stories, the character. And I think he had that, but one of the things he possessed was he was a serious character when it came to football. What he could do in one breath is absolutely rip you to shreds, and you'd want to kill him, but then two minutes later he'd make you feel like the best player in the world. And I think all good managers have that.
"With Killie, I think he would say he was fortunate to have really, really good players there as well. Bobby Williamson, Ray Montgomerie, Billy Stark, George McCluskey, 'Sluddy' (John Sludden). Guys who were excellent footballers for the level Killie at that time were at. With regards to being successful, I don't know if he would have been successful if he didn't have the quality of player. Or the quality of character, because they are all good people.
"I think in terms of the actual project, he loved it because he got into the Premier League in the year three teams went back down. So you basically had to finish in the top two-thirds of the league, which was very difficult. They drew at Hibs last day to stay up, and he mentioned that day as well. He always mentioned that game as meaning so much, just because of that sense of achievement. Staying up was gargantuan because Killie's been there ever since…well, for the most part!"
When Tommy Burns decided to move to Kilmarnock in 1989, it was a risk, but one taken with the longer-term in mind.
"It was an interesting one because at the time he had offers from Premier League clubs to go there as a player. I think a big, big influence on him was the Fleeting brothers, Jim and Bobby. Particularly Jim, I would say. I think he also saw a pathway – a really good start to his coaching career as well."
The Tommy Burns era was marked by quick success, based on hard work and a collective desire. Yet the strong mutually held feelings were sorely tested when Celtic came calling at the end of the successful 1993/94 campaign. Years on from the dramatic separation, how does Jonathan reflect on the cutting of ties?
"Kilmarnock didn't want to lose him, which was obviously understandable at that time, because they had success, they had a good team, they had a good brand of football. And then you had Celtic coming in who were coming out of their financial crisis and building their stadium. It was a rebirth of Celtic because from 1990 to 1995 they didn't win any trophies. Which now, if you think about it, is infeasible.
"I know for a fact that it was not an easy decision to leave Kilmarnock because he did have a love for the club, and a love for the people at the club. I think at that time, the emotional aspect and the emotional pull, and he always put it: "If you turn down the Celtic job, does the Celtic job ever come back round again?" One of his big reflections was that he was too young. I think he was 36 or 37 when he took the Celtic job.
"I think it was sad for him and that he wished it could have been resolved, because it dragged on and on and on. He would have wished that it ended differently, maybe on the terms of just being able to resign. It got to a point where he couldn't even do that. It was an ugly situation, and it maybe left a sour taste in people's mouths, and I think he totally understood and got that. It's a shame because I think at times it does overshadow what was done at Kilmarnock in that time. And not just by him, by that group of players and that ownership and directorship. It was a really successful period in Kilmarnock's history.
"Since his time managing Kilmarnock, I think there's only two managers who have managed more games than him – Bobby Williamson and Jim Jefferies. I think everybody else either lost their job or left for whatever reason. Longevity, to stay in a management job for 110 games or whatever he did, it's not easy. It wasn't easy back then either."
HOME AWAY FROM HOME
The Burns family played their part in maintaining the hospitable atmosphere long regarded as a defining feature of the club.
"Jenna (Tommy's daughter) used to help out in the team room in the players' lounge, and they would give her a fiver in an envelope at the end of the day. I think that's something that he missed when he went to Celtic. It's a superpower of a football club, obviously, but we probably never experienced that again as a family. Going into a stadium and it's just a real family atmosphere, the kids are playing in the players' lounge, the daughters are helping putting out cups of tea. That obviously stopped when you leave because you're going to a massive football club and the atmosphere's different.
"I think it might have been Jenna again, when it was the Second Division days, she used to sit on the end of the dugout, which today is just unfathomable! There were just aspects of that where we all look back at Kilmarnock as such a happy time.
"I think we have a soft spot for Kilmarnock, especially when they play Rangers! No, I think we do have a soft spot for Kilmarnock. I always keep a wee eye out for their results. Seeing them get promoted last season, and the manner as well, was amazing. I watched that game over here. It was so nice to see Rugby Park full, to see that game against Arbroath because, at that time, they'd been through a lot. My worry when they were relegated was whether Kilmarnock would get back up again because it's not an easy league to get out of."
Jonathan is making strides in the coaching game himself. After spending seven years at Celtic, he took the opportunity to move to Florida. This summer, Charlotte Independence under-19s became the career latest step. Benefitting from the influence of his father in his formative years in the profession, his own philosophy appears to bear some hallmarks.
"It's become very complicated, and I think coaches want to use terms to sound more like doctors. For me, humanistic qualities are most important. You can be the most knowledgeable football person in the world but unless you get people to buy into you as a person, to have the feeling that you really care about them, and you're in the trenches with them, I don't think that you're ever going to be successful.
"When I look back, I don't think my dad was by any means a tactical genius. I don't think anybody would say that. But when he was on the pitch, his enthusiasm for being on the pitch, it could have been the most basic session, but you would have spent eight hours there with him if you could. Just because he was so infectious and so desperate to be there. If there's one thing I would probably try and replicate, it would be that enthusiasm for the game when you're working with players."
For more feature interviews about the Tommy Burns era, pick up the December edition of the Killie Magazine online or in the Killie Superstore.