Killie Magazine Insider: 'Always learning, with Craig Clark'
---
In this month's edition of the Killie Magazine, our Under-18s coach speaks in detail about player development, personal development, and future planning. You can read the full article below.
Pick up a copy of the mag to read more exclusive interviews with those around the club.
---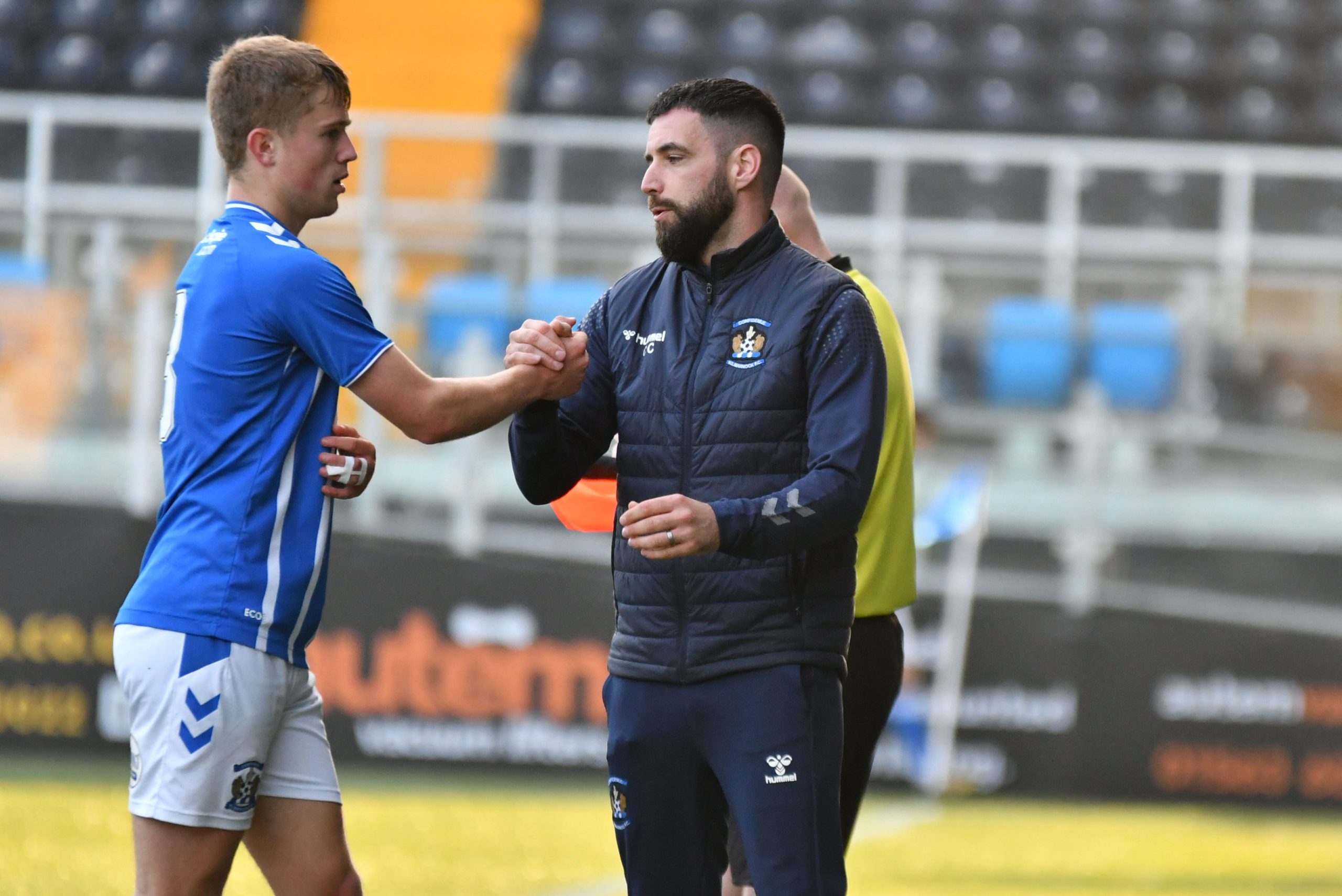 Craig is a familiar face at Rugby Park. You will find him putting in the hard yards on the training ground, as well as kicking every ball from the Frank Beattie Stand on a Saturday. His love of football and the drive to succeed in the sport? It all came from a moment many can identify with – the 1997 Scottish Cup final.
"It was my papa who took me. I just remember the whole vibe across the town that day and the week leading up to it. I didn't know what was going on, but it was so infectious. I was always into sport at school, but that just lit a fire within me.
"I'm from a non-footballing, non-sporting family, if I'm honest. I'm an outlier. I've said this to Derek McInnes, I've said it to a few people: I probably shouldn't be sitting in the seat I'm in, in terms of how football is known in society. I didn't play to the highest level, but I coached from a very early age. I was an ok player, but I did my ankle very young. Through my rehab, I ended up coaching. I started at Kilmarnock when I was 17. By the time I was 21, going into my last year of uni, I got the opportunity to work with the Academy, and I've never looked back.
"When I left uni, it was very difficult to get jobs in sport, so I got a job at Ayr College in 2010, as it was known then, as a Learning Development Officer. It was a pastoral guidance role. That's really where the education side of it comes in when I'm working with the 18s. You are a social worker sometimes, with the things that come up. You've got to be warm; you've got to be humanistic towards them. You've got to get the buy-in from them, because they're not going to listen to you if you don't get across to them that you care and that you value them."
It has been a committed, long-term personal and professional relationship with his local club. Apart from when he moved some 5,000 miles away, that is.
"I was still working part-time with the Academy alongside my role with the College. 2015, I took a year out and went to China and coached for Man City over there. It was more from a personal development point of view – I wanted to experience a different culture and challenge myself. To say I was a bit naïve doing that, probably. I didn't enjoy it. But I did the same when I was 19: I went to America for the summer. I didn't enjoy it but I look back on it now with fond memories – it gave me real personal development and personal growth. Halfway through my time in China, I got an offer to go to Canada – straight from China to Canada! So that was a year out. I came back, finished all my badges, and in 2018 I got the opportunity at Kilmarnock full-time. It's been a whirlwind since then."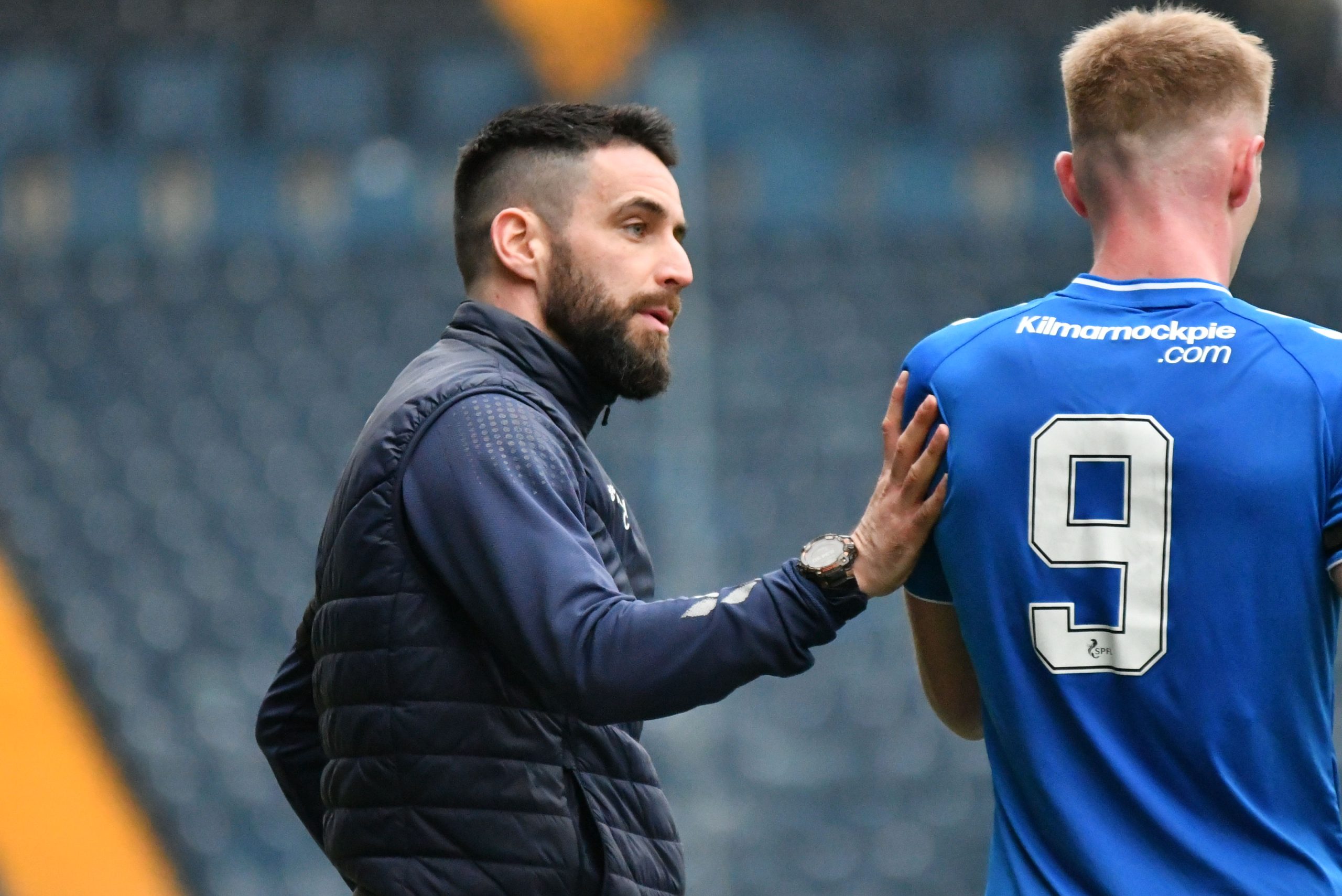 The working week
The commitment of players and staff alike can mean several games every week, as well as the ability to be flexible with preparation. What does the seven days look like?
"We are in Monday and Tuesday, then have day off on Wednesday. The boys will go back to school on that day if they need to. Then we are in on Thursday, there's a game on Friday, and Saturday is normally part-recovery, part-training. Then they are off Sunday.
"We don't have that many full-time players. Half are full-time and half are still at school, so Mondays are normally split between the 18s and some of the reserve group. The under-18s from last year, they are still part of that sub-group which feeds into the first-team a little bit. It's maybe ten players on a good day. We will do a training session, with the gym before that, and we will do a bit of video based on the game from the Friday. Within that, the boys have an opportunity to sit with me and do their individual clips. Basically, we go through their game and highlight areas or moments they want to speak to me about and get clarity on.
"Tuesday is the first day of day release. At the start of the year, we ask permission from the schools to allow the boys the afternoon off on the Tuesday and the Thursday, so that they can come in and train full-time with the group. Those days are really when you get most time with the players. The majority of the 2006 age group are still in fifth year, so they work their timetable and on those two afternoons they come in and go through that same programme that everybody gets in terms of full-time training. During the Easter holidays, you get everybody in, which is great. You get two weeks working with them full-time, which is massively important for them.
"I try to make sure that they get at least one weekend off every month, just to make sure that they are being boys. I'm not going to ask what they do, but that social part becomes so important for them."
A smooth transition from under-18s to first-team requires a synergy and understanding from all those involved in the process.
"For me, I think it's really important to have eyes on what the first-team manager is doing. I've done that with every manager I've worked under. I don't influence it at all. It sounds silly but I chase footballs, I pick up cones. I'm there to learn and I'm trying to immerse myself as much as I can. I'll take away the silliest things ever. As an example, my wee guy's just started with Dean Thistle. The coach said to the players, 'I want a tackle, not a tickle.' Just wee things like that you pick up. Derek McInnes is fantastic for those kinds of things. He's very warm, he asks about your games, he'll maybe ask for your opinion on some things.
"I find it important to have eyes on that, just so I can help with the transition of maybe a Bobby Wales or a David Watson into the first-team environment so that I can make sure they are as best prepared for when that opportunity comes for the first-team. They are never going to be ready, in my opinion, but you need to make sure they are as best prepared as possible. I can offer them bits and pieces or I can ask the same in my training and my games as the manager does in the first-team.
"It's a lot of time on the pitch, a lot of time session planning, going through clips. And that's just the 18s and the first-team; I actually go below that as well. You've got the 17s, the 16s; all that becomes part of the programme as well. That's more at night-time. I've got a really good coach I work with just now, Brian McLean, who is at Clyde. He takes the younger ones."
Recent seasons have seen Academy players move to big-spending Newcastle United and Manchester City. Developing players for the first-team while affording young stars the best opportunities is a challenge faced by all provincial clubs. How can Kilmarnock place itself as the preferred option for the early years of a player's professional career?
"Firstly, you see what we've done with Bobby and David. They are the poster boys at the moment, David especially. He's been given the opportunity and he's grabbed it with both hands – his performance against St Johnstone was just remarkable. It's come with good timing but it's also come from how close we are to the first-team. If you are good enough, and you show that maturity and ability to be trusted, then you'll get that opportunity regardless of what age you are. For an outsider looking in, a player might think, 'I could be the next David Watson or Bobby Wales or Charlie McArthur.'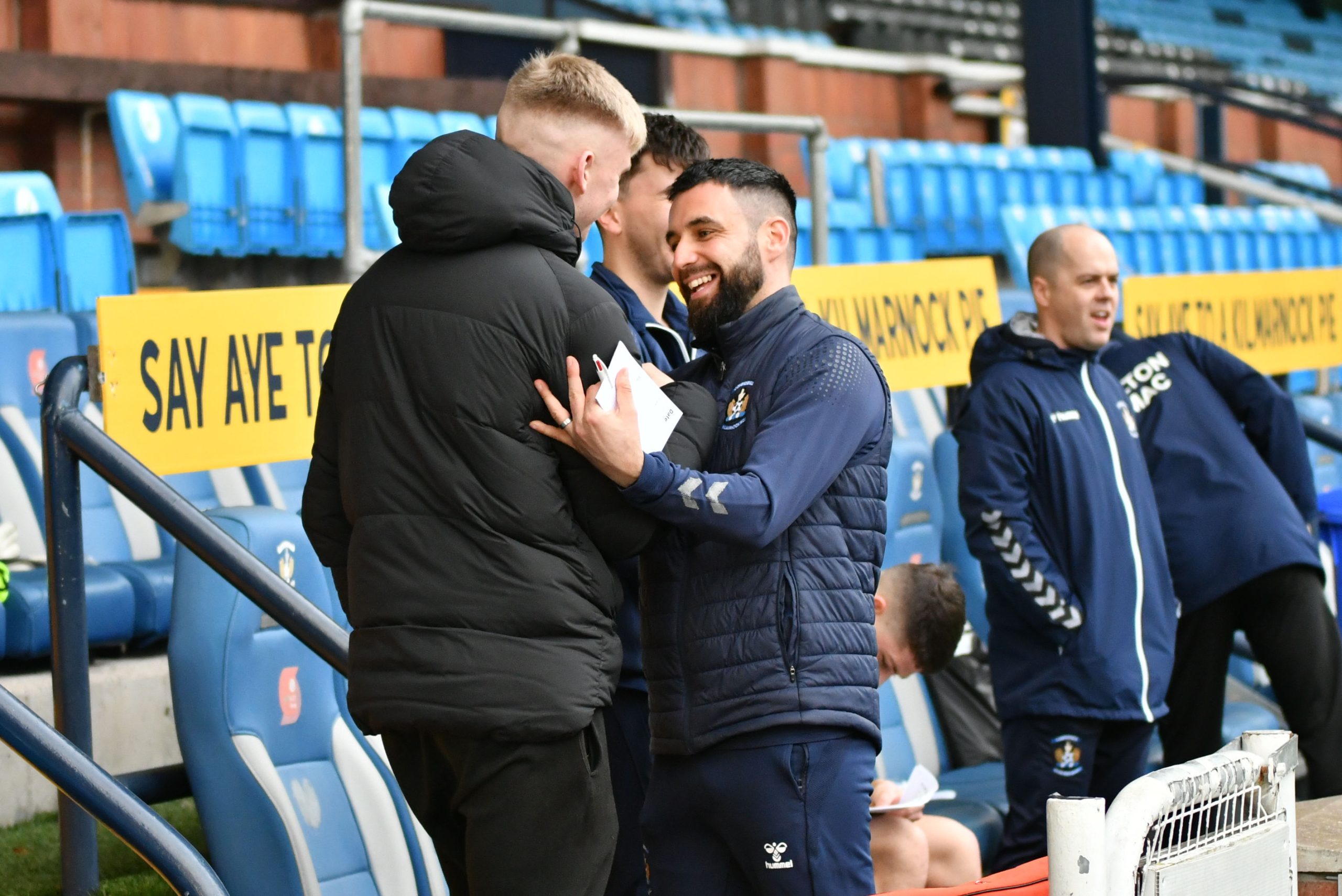 "The programme I am trying to give the 18s is the best one possible. For the first time since I've been in here, we did a full pre-season. We went down to Stoke and it was incredible to see the boys mature within that week. Some of them had never been away from their mum and dad before; some of them might not have been in England before.
"We arrange games against good opponents. We've played Burnley and Man United this season already and competed very well against them. I think when you go toe-to-toe with these players and show that you can play against some top teams, you get a little bit of credence from that. We probably are an Academy still in its infancy in terms of what we can offer. We look at quality over quantity. If you go to bigger clubs, they have a lot of players but how many actually make it? So our quality then becomes David Watson, Bobby Wales, because we can streamline it. We can focus our efforts on the ones who are on that periphery."
It is hard not to be impressed by Craig Clark's passion for the job, his desire to succeed and his ambition for the young players he is responsible for leading through the challenges football presents. When he gets a minute to himself, how does he reflect on his own future?
"I think you're the fourth person to ask me that in the last three or four months! I don't know. I'm evolving and trying to get better daily. I'm working my way through experiences. I don't see myself as an under-18s coach forever, but I'm not in a rush to make any life-changing decisions either. I'm a Killie boy, I stay locally. I take a lot of pride in the job I do. I wouldn't say I don't have aspirations, but I certainly don't have in mind where I want to go. I'm just trying to build up as big an experience as I can and make sure I'm fulfilled as much as the players are fulfilled."
Priced at £4, this month's Killie Magazine is available to purchase from the Killie Superstore. Find out who else is inside the front cover – HERE