James Frew Ltd Sign Primary Shirt Sponsorship Deal
---
Kilmarnock FC are delighted to reveal that James Frew Ltd has signed a deal to become the club's new primary shirt sponsor.
The Stevenston based business has agreed a partnership which will see their logo proudly displayed on the front of men's first-team, reserve and under-18 jerseys as part of an exciting three-year agreement.
A family-run organisation since 1911, the business provides integrated property building solutions ranging from mechanical and plumbing services to planned and reactive domestic building maintenance and social housing modernisation.
Supporters of the club for more than 30 years, the organisation has always held a special place in the Killie family. James Frew Ltd is also the parent company of last season's sleeve sponsor, GasSure, which has been a long-term partner of the club.
Following a successful three-year shirt partnership with Brownings the Bakers, the new deal with James Frew Ltd further establishes the club's commitment to futureproof commercial agreements by growing relationships with local businesses.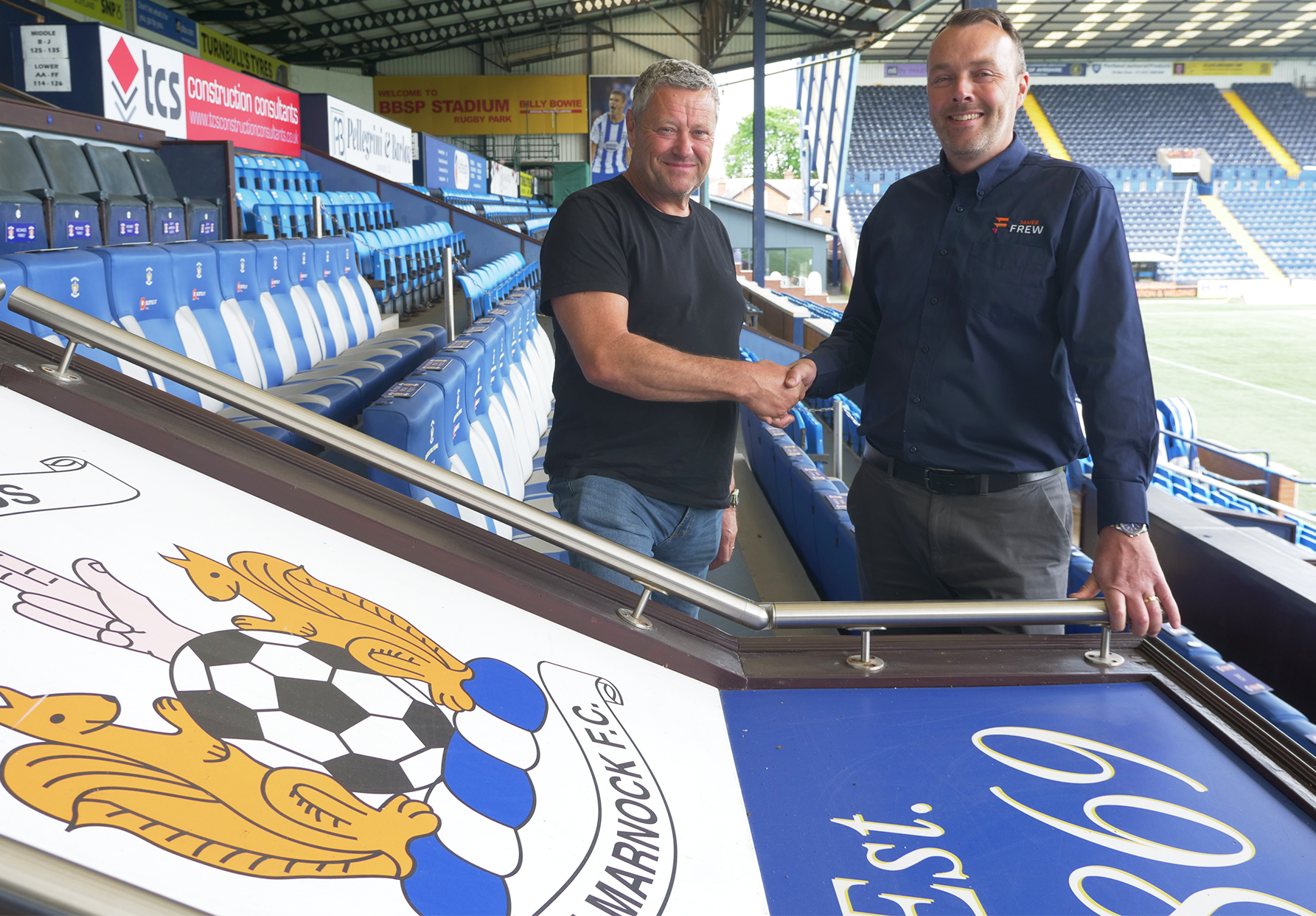 One of the largest employers in Central and Southern Scotland, James Frew Ltd shares Kilmarnock FC's passion for supporting the community. The business plays an important role in nurturing the next generation of workers through their award-winning James Frew Academy which features apprenticeship training, employee development, and leadership and management programmes.
Previewing the partnership, James Frew Ltd's Managing Director, Roddy Frew, commented: "As a lifelong Kilmarnock FC supporter, I was immensely proud when our GasSure brand first appeared on the shirt sleeve. The opportunity for James Frew Ltd to be on the front of the shirt is an absolute dream come true, an amazing platform to launch our new branding, and continues our long-standing partnership with the club."
"We are so excited to see the team wearing the new kit and can't wait for the new season to kick-off!"
Kilmarnock FC Director, Billy Bowie, added: "In recent years, we've worked hard to establish strong relationships with local businesses who are truly invested in the club's long-term success.
"Bringing a passion for both club and community, James Frew Ltd embody exactly the type of partner that we aspire to work alongside. Both BBSP and James Frew Ltd are two of the area's largest employers, and their dedication to support the local community is paramount in everything they do.
"We're fortunate that our previous principal shirt sponsors were part of a trophy-winning campaign, so we hope to deliver Roddy and his team with their own iconic moment of club history. It's an extremely exciting time to welcome them on board as we build on a period of record shirt sales."
James Frew Ltd will be officially unveiled as front of shirt sponsors when the 2023/24 home and away kits are released within the next couple of weeks, prior to the school Summer holidays.
---
James Frew Ltd are offering Kilmarnock supporters the chance to WIN the first home and away kits that are up for grabs! For more details about how to get your hands on one before anyone else, keep an eye on the James Frew GasSure Facebook page.