FIFA 21: Your Killie guide and win games
---
FIFA 21 is out and you can win a copy of the game with our competition.
We've got PS4 Killie Club Pack versions of the game while we've partnered with with Smyths Toys Superstore to giveaway some copies of FIFA 21 on XBOX and PS4.
Smyths (open Mon-Wed 9am-7pm, Friday 9am-8pm, Sat 9am-6pm and Sunday 10am-6pm) is based at Kilmarnock's Queens Drive Retail Park with the game retailing at £49.99.
Fans are reminded they can click and collect within the hour from the Kilmarnock Store.
To be in with a chance of winning a copy of the game, simply reply to our Twitter or Facebook post about Fifa 21 with either PS4 or Xbox, depending on which console you have at home. 
Alongside our amazing giveaway of the new game for the PS4, we've also compiled a handy guide on all things Killie as you obsess over your picks in Ultimate Team, or look to build a winning side in career mode.
Squad stats, transfer budgets: whether you're stepping into the suit and tie of the Rugby Park dugout, or winning balls in player mode – we've got you covered.
THE PLAYERS:
Individual stats are sure to be an interesting topic of debate in the dressing room. Gary Dicker comes into the new game as the highest ranked player in the squad with a 70 rating. Our Irish midfield maestro has a physical rating of 76, shaping up as the spine of the Killie midfield – just like in real life.
Wing king Chris Burke may have something to say about his 68 rating but with a three star skill rating to make up for it; he'll certainly add all his usual class to your in-game attacks with his pacey runs and teasing crosses.
If you're looking to put your faith in youth: young Tomas Brindley starts the game with a humble 56 rating; but if you're keen to put the hours in, simulated of course, on the training pitch with him, he's got the potential to develop into a 75 rated midfield destroyer.
Colin Doyle clocks in as our highest rated goalkeeper with a 65 rating: but with Danny Rogers and Jake Eastwood in the pack as well, rated 60 and 61 respectively, there'll be plenty of competition between the posts as you coach your keepers up.
As in previous years, career mode also gives you the option to create your own custom player to start his career mode at Killie. Could you be the next hot prospect at Rugby Park, destined to fire us to glory?
You can find a full breakdown of Killie FIFA 21 stats below: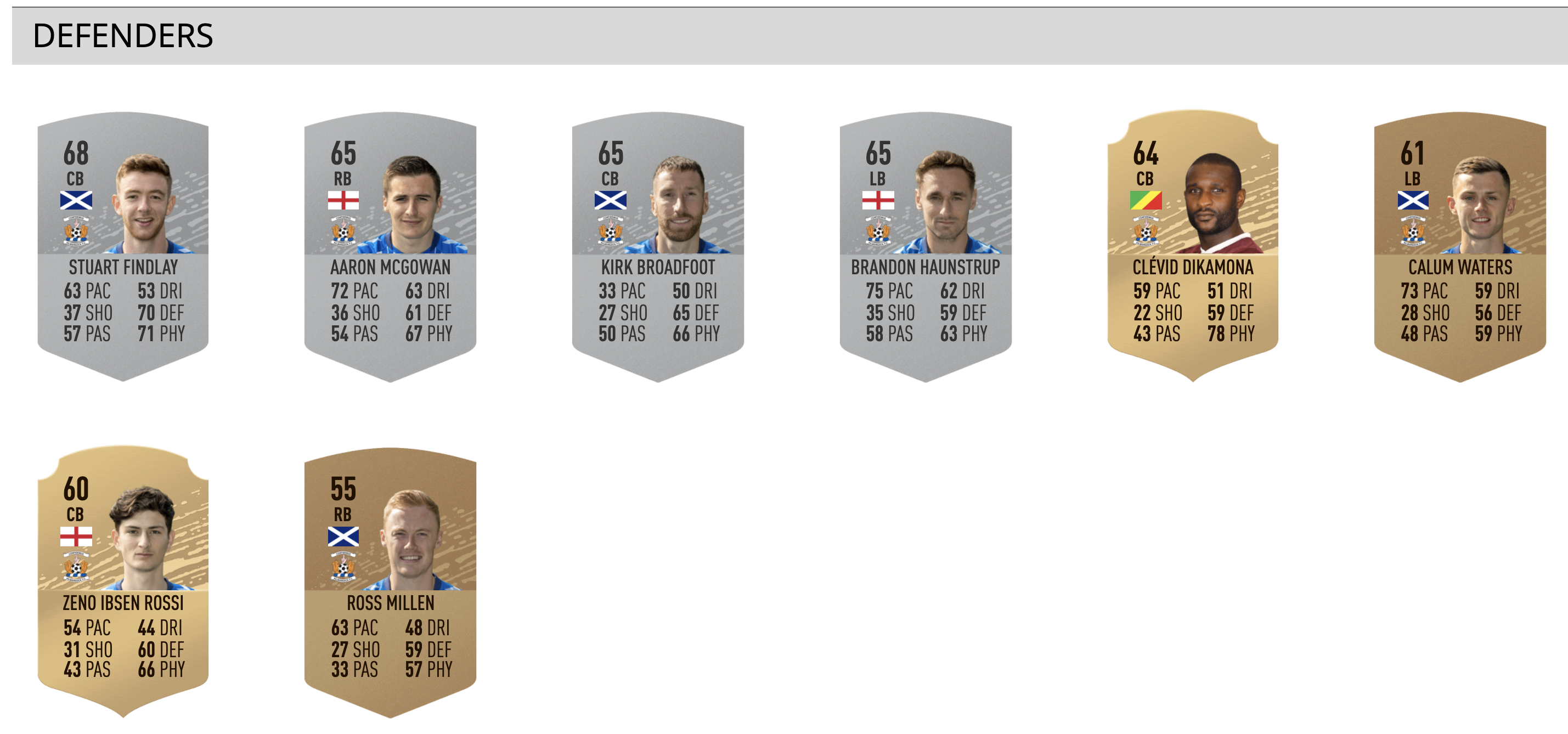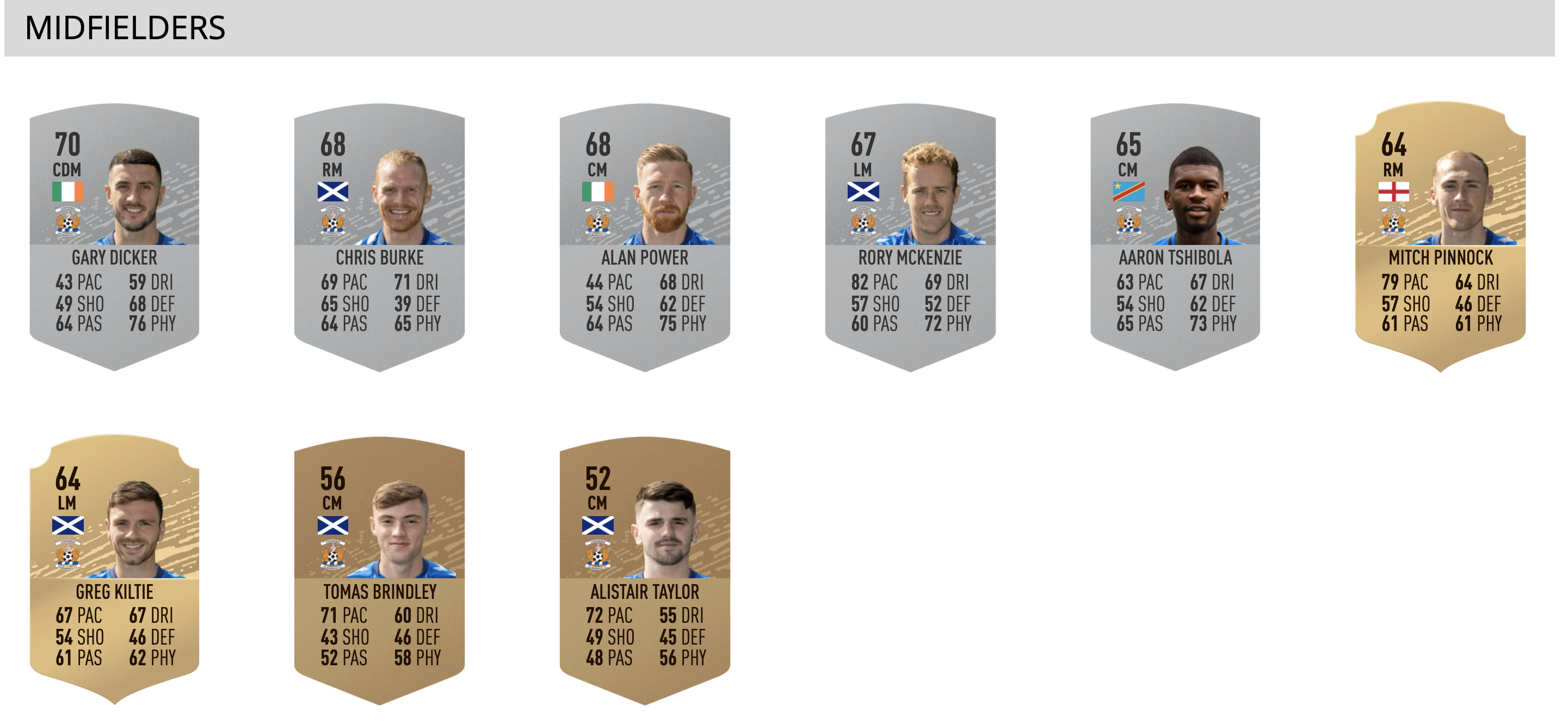 THE BUDGET:
If you've made the choice to step into the dug-out in career mode, you're going to have to juggle a lot of different things as you look to bring your vision as Killie gaffer to life.
Be prepared though, the Board have expectations, and you need to meet them if you want to enjoy a successful time as manager!
With HIGH focus on finances, your biggest mission as Killie boss will be to ensure the books are balanced in your first season in charge. You'll start with a transfer budget of £1.5 million, potentially higher if you carry over saves from previous FIFA games, meaning you'll have to recruit smart in your first window. Reckon you can sniff out a bargain in the summer market?
(Kille Tip: This year's game gives you the option to have a financial takeover before you jump into career mode: so if you want to cut to the chase and get world class players in your team from the off, hit that option. But hey, where's the fun in that?)
Youth development is a MEDIUM priority, but good youth scouts don't come cheap in the game! How will you manage your budget between the competing needs of the first team and the academy? Will you be a gaffer that favours youth or sticks with old pros?
Brand exposure and continental success both come in as LOW priorities, whilst domestic success is ranked as a MEDIUM priority.
Let's be honest though: we're all going for the title in the first season. Mon' The Killie.
GAMEPLAY:
Development Plans are a new feature in FIFA 21, and allow you to give your squad intense training so you can boost their in-game rating. You'll get the most benefit out of this feature as you develop younger players. Ally Taylor, Tomas Brindley and Innes Cameron are all high potential youngsters that could really benefit from your coaching!
(Killie Tip: we recommend that you either focus on improving the strengths a player already has or try to beef up their weaknesses. For example, if your left wing-back struggles with defensive roles, you can make them focus on defensive duties so that that part of their game improves.)
Along with new 'sharpness' monitors on your players, letting you judge their match sharpness so you're better informed when to make substitutions, FIFA 21 has introduced a new collision system that makes tackles feel robust and realistic – a valuable addition to the game so you can recreate the same exquisite tackles of Kirk and Finders in the game.